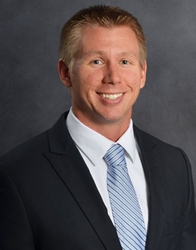 Ryan's credentials allow him the ability to understand and implement sustainable design and construction best practices.
KANSAS CITY, Mo. (PRWEB) October 02, 2018
Ryan Shropshire, PE, was named as a "Top 40 Under 40" award recipient by Airport Business magazine. The annual award recognizes 40 aviation industry professionals under the age of 40 for their academic, professional and community achievements.
Shropshire started his career as an HNTB engineering intern in 2007, working on the Manhattan, Kansas, Regional Airport Master Plan update. He joined the firm two years before earning his Bachelor of Science in civil engineering from Iowa State University. His primary role is in aviation design and construction services at more than a dozen general aviation and commercial service airports throughout the U.S. He is a Professional Engineer, an Envision Sustainability Professional with the Institute for Sustainable Infrastructure, and a member of the American Public Works Association.
Shropshire currently serves as deputy project manager for the reconstruction of Runway 13R-31L at Dallas Love Field – his largest airport project to date. This project encompasses environmental assessment, alternatives analysis of all aspects of the project, as well as incorporating other airfield improvements to address current deficiencies and mitigate future impacts to operations.
"Ryan's credentials allow him the ability to understand and implement sustainable design and construction best practices," said Laddie Irion, HNTB national aviation market sector leader and senior vice president. "Additionally, he always takes time to mentor and support his colleagues to enhance the working experience for everyone."
Airport Business magazine is the most widely circulated and audited business publication that targets professionals who manage airports, airport-based businesses and corporate flight facilities in North America. Its more than 17,000 subscribers are critical to the safe operation of the North American air transportation system.
"It's always amazing to see the impact the budding leaders of aviation are making today," said Joe Petrie, editor-in-chief of Airport Business magazine. "Bringing talented professionals into the aviation realm is a very powerful resource. All of them are passionate about what they do and their drive to find better ways of doing business."
This is the seventh year of the Top 40 program. Many past honorees are now leading major institutions and projects in the aviation industry due to their dedication and skills.
HNTB's many signature aviation projects include design of the air traffic control tower at San Francisco International Airport; design of the T2 West "Green Build" terminal expansion at San Diego International Airport; program management at Dallas-Fort Worth International Airport; architectural and engineering and design services at Los Angeles International Airport; design and construction management of runway status lights implementation at airports across the country; program management and owner's representative services for Chicago's O'Hare and Midway international airports; program management and construction management for the Hotel and Transit Center at Denver International Airport; taxiway design, construction services improvements and a terminal planning study at Kansas City International Airport; and master plan update for Tampa International Airport. The firm's largest ongoing aviation project is serving as architect of record for design of the new South Terminal C at Orlando International Airport.
About HNTB
HNTB Corporation is an employee-owned infrastructure firm serving public and private owners and contractors. Celebrating a century of service, HNTB understands the life cycle of infrastructure and addresses clients' most complex technical, financial and operational challenges. Professionals nationwide deliver a full range of infrastructure-related services, including award-winning planning, design, program management and construction management. For more information, visit http://www.hntb.com.