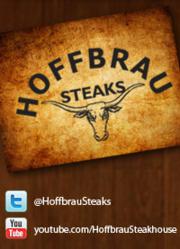 When you walk into a Hoffbrau Steaks, it's like coming home...
(Vocus/PRWEB) January 27, 2011
Hoffbrau Steaks, a family owned and operated steakhouse chain of restaurants in North Texas, is excited to announce their venues as the place for fans to watch the big game in Arlington, Ft. Worth, Haltom City, Granbury and Dallas's Historical West End Dallas.
The Big Game, to be held at Cowboys Stadium in Arlington, Texas, is predicted to attract 100,000, and that's just the fans in the stands. With more than 240 events scheduled to take place during the weekend of Feb. 6 across DFW, Hoffbrau Steaks restaurants around the metropolis are preparing to host the diehard football fans that miss out on the live game.
"When you walk into a Hoffbrau Steaks, it's like coming home, but we have bigger televisions and additional seating for your football buddies," said owner, Rainey Fogiel "Each restaurant provides fans of The Big Game the best in original country cooking, ice cold International, National and Texas beers and of course, legendary Texas steaks."
Since 1978, Hoffbrau Steaks has pioneered the traditional steak and chicken fried steak in the North Texas area. Fans of The Big Game seeking a traditional meal, typical of the Lone Star State, can come and have a watching party between 11 a.m. and 11 p.m. on Sunday, Feb. 6, 2011. Hoffbrau Steaks also has large party rooms or they can cater any of your parties for The Big Game.
About Hoffbrau Steaks
Hoffbrau Steakhouse has six North Texas locations and has been a favorite of local customers and tourists since 1978. Hoffbrau Steaks is known for their quality steaks and getting the very best USDA choice aged cuts available, and their food quality and value is unmatched. So come Steak them out. For more information on Hoffbrau Steaks, visit http://www.hoffbrausteaks.com.
###