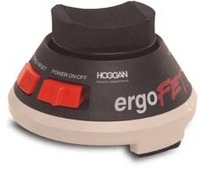 The ergoFET handheld digital force gauge is very popular with ergonomists, engineers, safety and healthcare professionals. Its ergonomic design fits comfortably in the palm of your hand and weighs less than one pound, making the ergoFET an excellent choice for hand push or pull force measurements compared to the typical larger, rectangular and bulkier models
Salt Lake City, Utah (PRWEB) March 18, 2009
HOGGAN Ergo, Ergonomic Division of HOGGAN Health Industries, Inc., proudly announces engineering and design updates to the ergoFET handheld digital force gauge. The newly added features to the ergoFET force gauge offer improved versatility, efficiency and ease of use for ergonomic, engineering, health care, safety, research and product testing applications.
Due to worldwide demand, users now have the flexibility to select their preferred unit of measure and have it displayed in Pounds, Newtons or KGF. Previous models of ergoFET force gauge allowed only one unit of measure preset at the factory. Additionally, this enhancement to the ergoFET push pull force gauge combines the available force capacities of the previous two models (150 lb. and 300 lb.) into one ergoFET force gauge, rated up to 300 lbs. with superior accuracy.
"The ergoFET handheld digital force gauge is very popular with ergonomists, engineers, safety and healthcare professionals. Its ergonomic design fits comfortably in the palm of your hand and weighs less than one pound, making the ergoFET an excellent choice for hand push or pull force measurements compared to the typical larger, rectangular and bulkier models", says Don Gowans, Director of HOGGAN Ergo. "The new redesign and features of the ergoFET allow users to perform their force measurement tasks with ease and efficiency. There really is nothing comparable in the current marketplace when you consider the ergoFET's affordability in conjunction with its additional functionality. The affordability of this unit alone is huge when put in context with our current economic conditions. This is an essential instrument for any ergonomist or engineers in similar fields needing to accurately test various push-pull forces."
The new ergoFET handheld digital force gauge is now very affordable at $995.00, complete with a full complement of test attachments. Those interested may see the debut of the new ergoFET force gauge at the 2009 Applied Ergonomic Conference (AEC) in Reno, NV, March 23-26, 2009. You can call 1-800-678-7888 to speak with one of our product specialists or learn more by visiting our ergoFET page at HOGGANHealth.com.
About HOGGAN Ergo
For over a decade, HOGGAN Ergo has designed and provided accurate and durable testing equipment designed for industrial testing applications. After the success of the original ergoFET push/pull digital force gauge, HOGGAN Ergo expanded its ergonomic line to include ergoPAK Portable Analysis Kit and Force Sensing Resistors (FSR's) many tools for the ergonomic user. Each product in the HOGGAN Ergo line was designed with ergonomic specialists in mind to maximize versatility and durability in the very environments where HOGGAN Ergo products are most needed. HOGGAN Ergo strives to lead the way with innovation, design and manufacturing expertise.
Press Contact:
Kevan Hancock
HOGGAN Ergo
800.678.7888 x-118
http://www.hogganergo.com
###