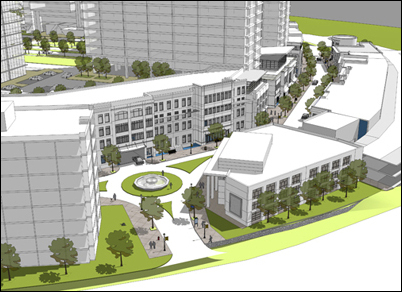 The Riverwood mixed-use project builds on the success of its neighbors - the Cumberland Mall, the Cobb Galleria and the much anticipated new Cobb County Performing Arts Center
Atlanta (Vocus) June 5, 2007
HOK is developing a comprehensive master plan for the $300 million Riverwood Mixed-Use Development in northwest Atlanta. Working with the developer, Seven Oaks Company, HOK is expanding upon the existing 100 Riverwood Class A Office Building site (previously designed by architect John Portman) by creating new integrated facilities that will offer a blend of residential, retail, hotel and additional office space.
"HOK is delighted to be part of the Seven Oaks/GE Asset Management team and to have the opportunity to re-engage the master plan," stated Bill Halter, HOK Atlanta Design Director.
The program includes a 350,000-square-foot, 14-story LEED® certified office building, 150,000-square-foot office building, 180-room hotel, two 250-unit residential towers, 37,000 square feet of office/condo space, and street-level retail and restaurant space.
Located in northwest Atlanta where I-285 meets I-75, the development will meet the need for ample parking by placing decks underneath buildings to create 1,000 parking spaces.
Communities where people are able to live, work and play have become a quality standard in Atlanta's highly competitive commercial market. HOK worked with Seven Oaks and adjacent property owners to create an internal main street featuring a green space roundabout, shops and cafes. The structures will be fronted with pedestrian-scaled, ground-floor retail and upper-level condominiums, resulting in a more intimate, active environment. In addition, pedestrian linkages will connect all buildings, ensuring a walkable environment for all who live, work and play in this contemporary mixed-use space.
"The Riverwood mixed-use project builds on the success of its neighbors - the Cumberland Mall, the Cobb Galleria and the much anticipated new Cobb County Performing Arts Center," said Halter. "The site is one of the highest in Atlanta and the views from much of the project will be unmatched."
In addition to serving as the Project Architect for the master plan development, HOK is currently designing the Class A, 350,000-square-foot, 14-story LEED certified office building.
In 1992, HOK formed an Atlanta office to program facility requirements for each of the venues for the 1996 Summer Olympic Games in Atlanta. Today, Atlanta HOK staff has grown to 80 professionals, including nationally award-winning architects, interior designers, consultants and planners. Georgia-based clients include AGL Resources, Atlantic Capital Bank, The Coca-Cola Company, Centers for Disease Control, Cumulus Media, Emory University, Georgia Institute of Technology, Equifax, Havertys, Turner Sports and The University of Georgia.
HOK is a global architectural firm that specializes in planning, design and delivery solutions for buildings and communities. Through its collaborative network of 25 offices worldwide, the firm serves diverse clients within the corporate, commercial, public and institutional markets. HOK is committed to developing resources and expertise to help lead the world toward sustainable communities and building environments. Founded in 1955, the firm's expertise includes architecture, engineering, interiors, planning, lighting, graphics, facilities planning and assessment and construction services.
###