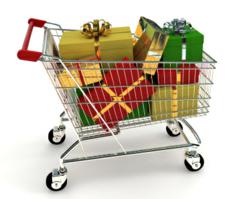 46% of shoppers will spend more time researching their purchases
Atlanta, GA (PRWEB) November 13, 2012
The blurring of the line between online and offline shopping is being blurred more every year. According to Google, this year will be the first time it has truly become unclear with holiday shoppers purchasing gifts both in stores and online on equal levels this season. The average holiday consumer is likely to spend $749.51, up slightly from last year, both online and off on holiday items including gifts and greeting cards, as revealed in a survey conducted by BIGinsight for the National Retail Federation (NRF). This gain predicts sales will increase 4.1 percent to $586.1 billion.
Along with increased spending, holiday shoppers are going to be using every efficient means with which they can acquire their purchases. This includes the convenient use of smartphones and heavy webpage surfing. There are many ways to draw customers in through direct mail with QR and bar codes, making direct mail anything but obsolete. QR codes can be scanned with smartphones that link to businesses' websites. There are many reasons to make sure this technology is utilized to its fullest potential when choosing to use direct mail:

Combining both the "outdated" direct mail with QR codes and bar codes can be effectively achieved through proper positioning on any letter, postcard or other form of mail, bringing more awareness to a brand name.
Makes it visible and it helps to place a label near it asking it to be scanned with smartphones, but it doesn't have to obstruct anything to gain attention.
Instead of the distance e-mail gives customers, direct mail provides tangibility; customers can hold and touch it, making it a more personal connection.
Using QR codes and website links helps to eliminate the process of memorization when the URL can simply be typed into the internet browser with the physical letter or folder right there.
With direct mail, viruses and other risks that can pertain to e-mail or other electronic communication is also not a risk factor, making it a much more trustworthy service.
A study conducted by Google through Ipsos OTX involving 1,500 shoppers showed that 46% of shoppers will spend more time researching their purchases, making using QR and bar codes on direct mail a good way to impress savvy customers and make them more likely to make a purchase altogether.
Using personalized content in direct mailings to draw consumers in for their holiday shopping with eye-catching and inviting text is a good practice, ensuring customers that they're in the right hands. AccurateLeads has found that companies who introduce their offer through the mail first get better results. Direct mail has been proven to be a more preferred method of communication of financial service information in a study performed by Epsilon; 60% prefer direct mail over e-mail or other mailing methods in 14 different categories relating to information in many areas.
Direct mail may look like an archaic mode of communication at a glance today, but by integrating new technology with a still-favored mail system, making sales and catering to customer needs and convenience is a better decision than going with another service. Drawing website traffic and purchases this holiday season while personally connecting with the customer is all perfectly possible using this service.
About AccurateLeads
AccurateLeads (http://www.accurateleads.com/) is a leading provider of direct marketing services that help businesses grow their client basis. Founded in 1984, AccurateLeads has developed a unique process that helps businesses create an individualized multichannel marketing plan to create growth and beat out competition.
For additional information feel free to call our toll free number at anytime: (800) 685-4787.