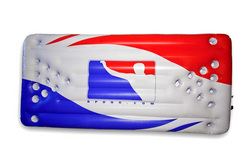 Sink It. Drink it®
Las Vegas, NV (Vocus) November 5, 2010
BPONG.com, the center of the beer pong universe, is pleased to announce the availability of beer pong gifts that range in price from "under $20" stocking stuffers to the ultimate gift for the beer pong aficionado – a trip to the World Series of Beer Pong™ (WSOBP™). The following are some of the many gifts shoppers will find for purchase online at http://www.bpong.com:
WSOBP VI™ Holiday Gift Package (starting at $500.00) – This is the gift of a lifetime and one that's sure to make gift givers a hero with beer pong lovers! Packages include a four-night hotel stay at the Flamingo Hotel & Casino in Las Vegas, entrance into the WSOBP VI tournament and a chance to win the $50,000 grand prize. Packages are priced per person (a team of two is required for entry). Airfare is not included. Packages must be purchased by Dec. 10, 2010 online at http://www.bpong.com.
BPONG® 8-Foot Beer Pong Table ($119.99) – Is your favorite beer pong player using a makeshift, homemade table? Help give them the playing edge and make that game room look official with this sleek and sturdy 8-foot table sporting the BPONG® logo. Available in black or white, it comes with two handles and folds into a briefcase sized package that weighs only 21 lbs and easily fits into a compact car's trunk or space-squeezed apartment.
New! BPONG™ Inflatable Floating Beer Pong Table ($59.99) – The latest addition to the BPONG Store, this inflatable beer pong table is way more fun than a blowup doll! It's made of strong, sturdy vinyl for rough and rowdy gameplay, and features 22 cup holders (10 on each side for beer pong game play and one cup holder on each team side for a rinse cup). Great for tailgates and pool parties and small spaces, it measures 6.5 feet long x 35 inches wide x 4 inches high, when size matters.
New! BPONG™ Rack Kit – Beer Pong Essentials Kit ($14.99) – This is the perfect gift for the guy or gal who just discovered the sport of beer pong or just someone who keeps misplacing their cup and balls! The kit includes two BPONG™ racks, two official beer pong balls and 22 cups – all featuring the popular BPONG logo.
Last Cup: Road to the World Series of Beer Pong DVD ($19.99) – An entertaining look at a sport that's sweeping the country, this DVD is a colorful and humorous docudrama of the World Series of Beer Pong (WSOBP) from its early days outside of Las Vegas. Produced by Morgan Spurlock (of Super Size Me fame), LAST CUP follows four WSOBP competitors to show how beer pong is more than a drinking game, but rather a sport, a pastime and a way of life!
BPONG® Beer Pong Balls ($14.99) – An ideal stocking stuffer, these tournament-grade balls are the real deal as the official beer pong balls of the World Series of Beer Pong. Includes a 24-pack of BPONG®, 3-star, seamless 40 mm balls.
BPONG™ T-shirts and Sweatshirts ($16.99 - $34.99) – An ideal gift for those who are heading to the World Series of Beer Pong in Las Vegas or just want to look official, BPONG.COM has a variety of tank tops, T-shirts and hoodies for every shape and size. Choose from a selection of black, white and pink (for the ladies) with I Heart Beer Pong, BPONGTM logo'd "Sink It. Drink it®," and Property of BPONG Athletics apparel.
About BPONG.COM
Founded in 2001, BPONG.COM is the premier source of beer pong information on the Internet, providing a collaboration and discussion about the game of beer pong. WSOBP, WSOBP VI and BPONG.COM are trademarks of BPONG, LLC and/or Beer Pong Events, LLC. The company hosts the World Series of Beer Pong, the largest and longest running beer pong tournament in the world. BPONG.COM products are sold online and at retail locations throughout North America, including Spencer Gifts. For more information about the company, its events and products, or the WSOBP, visit http://www.bpong.com.
(Media Note: High resolution product photos are available upon request. Please send email to kristin(at)bpong(dot)com)
###