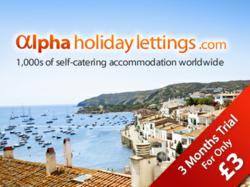 AlphaHolidayLettings.com's "3 Months Trial For £3" is perfectly timed for those who want to try out another listing site.
United Kingdom (PRWEB UK) 27 March 2013
In difficult economic times like these, generating a profit from private holiday lets, or at least covering the running costs, can be harder to achieve than expected. Furthermore, the latest figures released by tour operators Thomas Cook and TUI both suggest that holiday makers opting for all-inclusive holidays are on the rise.
Advertise holiday villas or holiday apartments on a rental listing site is one of the most cost effective ways to market holiday accommodation for rent. With an expanding number of self-catering holiday rentals properties and a strong focus on customer service (online Live Chat and dedicated Alpha Support team), AlphaHolidayLettings.com has set itself apart from some of the most established players on the market and has been one of the fastest growing holiday rentals listing sites to emerge in the last two or three years. It has recently launched a "3 Months Trial For Only £3" promotion, which sees many holiday home owners signing up and securing the all important bookings for 2013. Details of the trial offer and how to sign up can be viewed here.
"The team are quite the most helpful and pro-active team I have encountered in dealings with many sites. Their professionalism has resulted in a number of bookings which we are delighted to accommodate." - Ken Smith, Property 12069
"I've just got my first booking through Alpha Holiday Lettings. I really like this site - it has big photos, is clear, easy to use and the team is very helpful. I look forward to many more bookings with you!" - Maureen McCowen, Property 11214
"We have recently started advertising our luxury property portfolio on AlphaHolidayLettings.com. We are already reaping the benefits from our adverts with a good level of enquiries. The team at Alpha Holiday Lettings are extremely helpful. We would certainly recommend this website to other holiday home owners and hope that the level of enquiries continues into the future." - Tamsin Oates, Property 14580
The holiday rental advertising market is going through some major changes at the moment, with some big listing sites moving toward the "hotelization" model when it comes to charging holiday home owners and agents. Instead of paying a flat annual advertising fee, owners are charged a commission for each rental booking received. For some holiday home owners, it could work out a lot more expensive than the traditional annual fee structure. For those who are not keen on the commission model, the latest offer from AlphaHolidayLettings.com could be an excellent alternative.
For more details visit http://www.AlphaHolidayLettings.com.