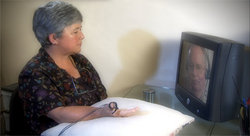 A sell-out crowd for an alternative health care documentary created on a relatively small budget by relatively unknown filmmakers clearly demonstrates the momentum among health care practitioners and consumers seeking alternative health options
London (PRWEB) March 12, 2009
The London premiere has sold out for The Living Matrix, a new documentary that challenges conventional medicine to include bioenergetics health care principles in its understanding of human biology, the filmmakers announced today. Produced by Harry Massey and directed by Greg Becker, The Living Matrix will premiere March 13 in a 430-seat theater at the The Living Matrix - The Science of Healing conference, King's College, London.
DVDs of the alternative health care documentary will be available at U.S. $19.95 at the premier, throughout the conference, and from The Living Matrix website beginning that same day, the filmmakers announced.
"A sell-out crowd for an alternative health care documentary created on a relatively small budget by relatively unknown filmmakers clearly demonstrates the momentum among health care practitioners and consumers seeking alternative health options," said Becker, president and owner of San Francisco Bay Area Emaginate. "Some people spend years suffering, mostly in the conventional medical system that restricts their choices and limits their wellbeing by dismissing alternative health care practices and the results of bioenergetic medicine. People are embracing new approaches, as we can see from this enthusiastic response to the premiere."
"Western medicine has yet to move outside its comfort zone to embrace these revolutionary holistic health care findings, which can have profound implications not only for medicine, but for the pharmaceutical industry and other health-related areas," said Massey. "The Living Matrix takes an inclusive approach by inviting traditional practitioners to consider a total integration between conventional and alternative medicine," he added.
The film is the first to bring together academic and independent researchers, practitioners, and science journalists - such as internationally known healer Dr. Eric Pearl, cellular biologist and former Stanford University professor Dr. Bruce Lipton, best-selling author Lynne McTaggart, and former US astronaut Dr. Edgar Mitchell - to explore the bioenergetic principles of the human body field and informational healthcare. They also articulate the concepts and define new terminology to help advance an understanding of these principles.
Dynamic 3-D graphic animation takes The Living Matrix viewer on a journey deep into the structure of the human body to illustrate how quantum biology influences health. Through in-person interviews and dramatized video vignettes that document the stories of people who recovered from chronic illness - including a five-year-old boy born with cerebral palsy, an osteopathic doctor with a brain tumor, and a housewife bedridden with chronic fatigue syndrome - the film demonstrates the effectiveness of bioenergetic medicine where traditional medicine has not succeeded.
Harry Massey is founder and CEO of Nutri-Energetics Systems in Poole, UK. Greg Becker is president of Emaginate, an award winning San Francisco-area film, video and digital media production company.
Review copies of the film are available. See media contact.
Additional Resources:
See The Living Matrix website for supporting press kit documents and photos.
See The Living Matrix bookmarks for links to participants' biographies and other resources for The Living Matrix movie/conference.
###