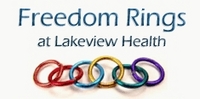 Jacksonville, FL (PRWEB) March 12, 2008
After years of perfecting holistic drug rehab, Freedom Rings holistic drug rehab has become recognized throughout the nation as being a premier provider of holistic drug rehabilitation services. The holistic drug rehab for the LGBT population is one of the first, if not the first, holistic drug rehab for the LGBT community.
Lakeview's Freedom Rings has achieved the "Gold Seal of Approval" from the Joint Commission on Accreditation of Hospital Organizations which places us among the nation's elite providers of drug rehabilitation services. In addition, the holistic drug rehab has been licensed by the State of Florida Children and Family Services to provide drug rehabilitation services.
The Freedom Rings holistic drug rehab center was designed with patient comfort in mind, both physically and emotionally. Patient rooms are spacious, lounges are complete with plasma television and comfortable furniture and group rooms and dining areas are smartly decorated. Lakeview Freedom Rings is located in Jacksonville, Florida twenty minutes from the Jacksonville, Florida international airport. Florida was chosen as the location for our holistic drug rehab due to the many alternative healthcare providers in Jacksonville, variety of 12 step support groups, a strong gay presence and medical services available, including the Mayo Clinic. We emphasize medical services as many of the patients we admit to our holistic drug rehab are in need of continuing medical care.
###