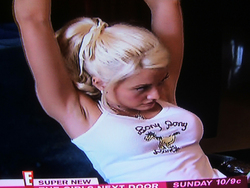 Beverly Hills, CA (PRWEB) December 14, 2008
Add Holly Madison to the list of fans of Bony Pony Ranch Clothing. In an upcoming episode of Girls Next Door, Holly wears Bony Pony Ranch Clothing, the line of clothing that has taken young Hollywood by storm. The clothing line, sold exclusively at Lisa Kline, is centered on the famed Joe Barbera character Bony Pony, which has quickly become a Hollywood icon.
The line consists of contemporary casual clothing for women, as well as clothing for children, infants and even pets. Tank tops, bomber jackets, cowboy hats -- Bony Pony Ranch items are seen on young models and actresses all over LA from Melrose to Malibu. A companion line, Camp Beauty, has found an audience with LA's stylists, beauty editors and make-up artists.
Now for the best part about BPR Clothing -- 100% of the proceeds go to benefit the inner-city and at-risk youth of the nonprofit Bony Pony Ranch Foundation! For the past fifteen years, the Foundation has removed gang-related tattoos and has provided hundreds of kids with mentoring opportunities and with the opportunity to visit and camp out at the Bony Pony Ranch.
And, in the perfect Hollywood twist, the clothing line is owned by celebrity Beverly Hills plastic surgeon Dr Frank Ryan. Dr. Ryan even has a Bony Pony Boutique in his Beverly Hills offices, where patients can browse for a bomber jacket after their BOTOX!
###