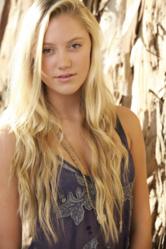 "SOLOSHOT is such a brilliant idea and an athlete's dream," said Maika Monroe.
Los Angeles, CA (PRWEB) August 15, 2012
Santa Barbara native Maika Monroe is a rising Hollywood star. She just finished shooting the new Jason Reitman film "Labor Day" opposite Kate Winslet and Josh Brolin. Next month her first feature film, Rahmin Bahrani's highly anticipated "At Any Price", where she stars opposite Zac Efron and Dennis Quaid as Efron's love interest, will premiere at the Venice Film Festival. However, what people may not know is that this young Hollywood beauty is also a rising star in the extreme sport of kiteboarding. As a professional kiteboarder, Monroe has traveled the world training and competing. But her favorite spot remains Cabarete - an eccentric little kite and surf town on the north coast of the Dominican Republic. In 2010, at the age of 17, Maika decided to forgo her senior year of High School in favor of online studies so she could move to Cabarete and train full-time and take her kiteboarding to the next level. When not on the water, Monroe's favorite activity is spending time with Cabarete's children. As a result, Maika became passionately involved with a local charitable organization - Kiteboarding 4 Kids (KB4K.org). KB4K holds an annual fundraising event and kiteboarding competition where proceeds go to local charities benefiting disadvantaged children.
"When I was living in the Dominican Republic the local kids became a part of my family," said Maika Monroe. "They were always there on the beach to help me when I was training. Each time I returned from the U.S., I would bring them board shorts, baseball mitts and used kite gear that my family and I collected in Santa Barbara. Once I learned about KB4K, I knew I had found the perfect organization to combine my passions for kiteboarding and children - and to make a difference on a whole new level," concluded Monroe.
Monroe has teamed up with the 2012 title sponsor - SOLOSHOT - for this year's competition happening August 17-19 in front of the Millennium Beach Resort. SOLOSHOT is the first and only automatic cameraman that allows professional and amateur athletes to get video of their sessions at distances up to 2000 ft away, with no camera operator, by automatically keeping a tripod mounted camera pointed towards the athlete. Monroe credits SOLOSHOT, whose co-founder Chris Boyle is Monroe's kiteboarding coach and a Cabarete resident, with helping her perfect her kiteboarding skills.
"SOLOSHOT is such a brilliant idea and an athlete's dream," said Maika Monroe. "It has given me the ability to film myself training without anyone's help – it's perfect because I can go to the beach, set up my SOLOSHOT, and not have to rely on anyone to stand there and film me from the beach for hours. My mom or a friend can just relax while SOLOSHOT does all the work. When I can finally spend some time away from Hollywood and concentrate on training, I know SOLOSHOT will be a big part of helping me get to the elite competition level. It is also cool that Chris and my friends at SOLOSHOT are sponsoring KB4K this year, as we all try to give a little something back to such a beautiful place that has given so much to us," concluded Monroe.
About SOLOSHOT
Soloshot Inc. designs and manufactures SOLOSHOT in the USA. SOLOSHOT is a tripod base that communicates with a small waterproof transponder worn by the subject to automatically keep a camera pointed in their direction. SOLOSHOTs are currently handmade at the Soloshot, Inc. facilities located in San Antonio, Texas and available for immediate sale through the company's website http://www.soloshot.com. Discounted SOLOSHOTs are also available through August 30, 2012 on Kickstarter as Soloshot, Inc crowd funds their new high volume, automated production line - also located in San Antonio, Texas.
About Kiteboarding 4 Kids
KB4K is an organization started by neurosurgeon Kee Park and kiteboarding legend and longtime Cabarete resident, Laurel Eastman. Since its inception, KB4K has raised almost $60,000 for various charities benefiting the children of the north coast of the Dominican Republic. Visit http://www.kb4k.org/ for more information about the charity KB4K or go to http://www.active.com/donate/KB4K2012/soloshot to donate and make a difference.