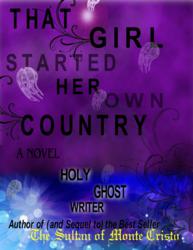 Download FREE on Amazon until 11:59pm PST tonight. Beware, you will be shocked after reading it.
NEW YORK, NY (PRWEB) September 09, 2012
Could this book reach staggering sales surpassing Stieg Larsson's amount of sales for his posthumously written Millenium Trilogy? Or, perhaps top the New York Times Best Seller list? These questions may not be that far from a yes, considering the amount of downloads currently happening right this minute. That Girl Started Her Own Country, the newly released novel by the Holy Ghost Writer is available for free download on Amazon Kindle website right now and will only be free for download until 11:59pm PST tonight.
"It's going viral," states the publicist for the book. A few days ago, before it's official launch, the book was leaked to specific journalists across the country. Since that reporting, alot of people were trying to figure out the connection between the Holy Ghost Writer, those journalists, and Stieg Larsson. Some fans think Stieg Larsson faked his death because this novel, That Girl Started Her Own Country, is a very detailed, intricately woven crime novel that is "too precise to be fiction." According to the publisher, that's one reason people are downloading the book and reading it and being totally floored after they read it. Some fans speculate, there "may not be too many folks happy about some details being leaked in this novel."
The book is slated for a $9.99 price after tomorrow. Amazon's user friendly platform, allows anyone to download the book for easy accessibility. Luckily, non-Kindle users can easily take advantage of the free download and have it sent to their Android, iPad, iPhone, PC, Mac, BlackBerry, or Windows Phone 7 device, so a Kindle device isn't needed.
To download the book right now, go to Amazon:
Download FREE copy on Amazon HERE