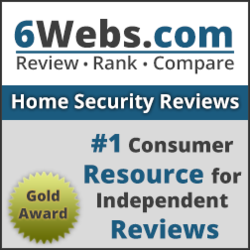 Compare the leading home alarm monitoring providers on 6Webs.com.
San Antonio, TX (PRWEB) March 14, 2013
6Webs.com is the leading independent home security reviews site that has helped thousands of consumers research the best alarm system for their home and family. 6Webs.com is focused on delivering unbiased and independent reviews of companies in the home alarm monitoring industry. Each year the independent reviews firm conducts a thorough review of dozens of home alarm companies which only the top alarm providers are ranked on their website.
The 2013 home alarm systems reviews can be viewed on their website where consumers can view side-by-side comparisons of the features and services offered from the leading home alarm monitoring companies.
http://www.6webs.com/home-security-systems-reviews/
According to Tim Smythe from 6Webs.com, "The home alarm reviews this year were interesting as the 2012 Gold Award winner was also crowned again in 2013. FrontPoint Security has won the Gold Award two-years in a row and it is well-deserved. FrontPoint Security offers their customers wireless home alarm systems with cellular monitoring services and a 30-day money back guarantee. They also maintain an A rating on the Better Business Bureau (BBB) and are one of the few home alarm monitoring companies that carry a BBB Accreditation. "
The top home alarm monitoring providers in 2013 all share a few common aspects which are positive customer reviews, wireless home alarm systems and cellular monitoring services. Customer service is a heavily weighted factor when determining the best home alarm system provider. Cellular monitoring services go hand-in-hand with safety and reliability as traditional phone line and broadband monitoring relies on wires that can be simply cut by a burglar from outside the home depending if the wires are exposed or not. The 2013 Gold Award winner, FrontPoint Security, recognizes the importance of cellular monitoring and only offers 100% cellular monitoring services to their customers.
About 6Webs.com
6Webs.com is the leading home alarm systems reviews provider and publishes annual reviews and rankings. Focused on delivering independent reviews, 6Webs.com also provides educational information such as security tips to help families lead a safer and more secure lifestyle.