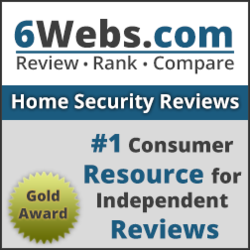 Compare the leading home security and home automation providers on 6Webs.com.
Sacramento, CA (PRWEB) March 21, 2013
6Webs.com, the leading home security systems reviews site, releases their 2013 picks for the best home security system companies that offer home automation services. Each year the independent reviews site investigates dozens of home security system companies and publishes the results of their reviews online in order to help consumers compare the features and services available from the leading home security providers.
In addition to selecting an overall winner there are several subcategories like best DIY security system and best wireless home security system that the 6Webs.com publishes in order to help consumers who would prefer to install the home security system themselves or who would like a security system free without having someone run wires throughout their home.
Tim Smythe, from 6Webs.com stated, "The 2013 Gold Award winner for the Best Home Security System Company went to FrontPoint Security, however the 6Webs.com pick for the best home automation goes to Vivint. Vivint is a clear leader in the home automation space as they do a wonderful job of blending home security, energy management and home automation into a monthly service for consumers."
Vivint's home automation package includes a smart thermostat, lighting and small appliance controls, automated door locks and video surveillance. All of these features and services are in addition to their state of the art home security service. To read more about how Vivint compares to the leading home security and home automation providers visit 6Webs.com at:
http://www.6Webs.com/home-security-systems-reviews/
About 6Webs.com
6Webs.com is focused on providing unbiased and independent reviews of home security system companies that offer 24/7 monitoring services. Dozens of security system companies are analyzed, reviewed and ranked each year with continuous updates to their offering reflected on the 6Webs.com website. 6Webs.com is dedicated to helping consumers select the best security system for their family.