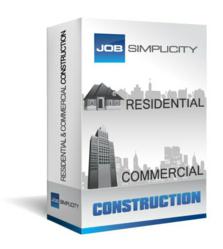 It's an appealing proposition for small builders that need the right tools, but are cautious about spending too much time and money implementing a brand new system from the ground up.
Calgary, Canada (PRWEB) May 16, 2011
HomeFront Software™ (http://www.homefront-software.com) has announced that their flagship product, Job Simplicity, continues to dominate the residential construction management software market with dynamic growth continuing into the current year. Integrated with popular accounting software like QuickBooks and Simply Accounting by Sage, this construction software 'plug in' provides affordable construction management features designed for small commercial and residential contractors and home builders.
In the past, only larger builders could afford a complete integrated construction management software system to manage their entire building process. With Job Simplicity, small residential and commercial contractors gain full-scale building management tools featuring plug-and-play integration with QuickBooks® & Simply Accounting by Sage. They gain advanced capabilities like comprehensive estimating and purchasing, job costing, advanced scheduling, service and warranty management, and CRM (customer relationship management) without the need for replacing their core accounting software.
Daryl Shenner CEO, HomeFront Software, says that the growth of Job Simplicity is a matter of developing the right product at the right time. "We were the first to bring full-function, affordable construction management software to small builders. Plus, you can be up and running in a single day – very little training is required and the price is a fraction of other construction software products. He adds, "It's an appealing proposition for small builders that need the right tools, but are cautious about spending too much time and money implementing a brand new system from the ground up. With Job Simplicity, they simply plug into their existing accounting software and they're ready to go."
Shenner notes how Job Simplicity is also helping to drive overall company growth. "We've just added a new office in the state of Texas to serve our growing customer base in that part of the U.S. In fact while the past couple of years have been tough for the construction industry overall, home building and other construction in Texas continues to buck the trend and we believe it is on the way to becoming a key market for us. The market has really taken to Job Simplicity and we couldn't be happier."
To see Job Simplicity in action, go to http://www.jobsimplicity.com/movies to watch a short video demonstration.
About HomeFront Software
HomeFront Software, based in Calgary, Canada, is a leading Construction Management Solutions provider that offers a complete solution for the entire building process from one, easy-to-use software system. HomeFront provides builders & contractors of all sizes with the real-time information necessary to make the business decisions that will maximize profits before, during, and after construction.
Developing software solutions for over 15 years; HomeFront continues to set the pace for software innovation and continues to be a leading provider of business management tools which are relevant, current and essential to most vertical markets within the construction industry. HomeFront has also been Recipient of many industry awards including "Top Product 2010" by Constructech Magazine, "50 Hottest for 2009" by Constructech Magazine, "100 Best New Products" by editors of Professional Magazine and HomeFront Software's Precision Builder application was nominated as a finalist in the Industry Achievement Award category by the Canadian Home Builder Association - Calgary Region SAM awards.
HomeFront is a collaborative effort of technology experts who have been working in the residential building industry for over 20 years. The company was created to provide home builders with the tools they need to manage their businesses and WIN in today's competitive residential market. Visit http://www.Homefront-Software.com to learn more.
###