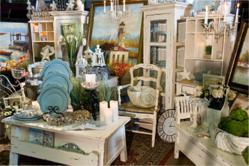 Multiple awards given to Real Deals on Home Decor in 2012 continue to establish the franchise as one of the best women owned businesses of 2012
Saint George, UT (PRWEB) November 19, 2012
Best Women Owned Businesses of 2012
Multiple awards given to Real Deals on Home Decor in 2012 continue to establish the franchise as one of the best women owned businesses of 2012. With franchises opening all over the United States, and new opportunities for territories in Canada, Real Deals on Home Décor continues to thrive.
Here are just a sample of the awards Real Deals on Home Décor stores have received recently, making it a top competitor among the best women owned businesses of 2012.
Fort Dodge, IA: Voted "Best of the Best" for home decor in the Messenger Newspaper's Readers' Choice contest. Named "Rookie of the Year" 2012 by Greater Fort Dodge Growth Alliance
Twin Falls, ID: Gold medal for "Best Home Décor Store," and Silver for "Best Place tobuy a Unique Gift" from the News Reader's Choice Awards.
Battleground, WA: Real Deals voted the best home decor store of 2012 in Clark County, Washington.
Walla Walla, WA: Named the #1 gift shop in Walla Walla Union by the Bulletin Reader Poll.
Marble Falls, TX: Won the People's Choice award for "Best New Business."
Coeur de Alene, ID: Won 2nd place at the NIBCA Home and Garden Show for the best booth.
Flagstaff, AZ: Voted best of Flagstaff home decor for 2011.
Nationally: Real Deals debuted in Entrepreneur Magazine's annual list of top 500 franchises as #281.
Additionally, there are new franchises opening in Canada, with many opportunities still available. British Colombia now has their first Real Deals in Cranbrook, Canada (the 2nd Real Deals in Canada after Lethbridge, with Okotoks opening in 2013), and Roanoke, Indiana just opened this month as well.
The competition to be one of the best women owned businesses is tough, but Real Deals on Home Décor continues to rank at the top, based on their numerous awards and recognitions from competitions all across the country. For more information on starting one of these best women owned franchises contact Jeff Humphrey, VP of Development at Real Deals on Home Decor.
http://www.realdeals.net
Alecsy Christensen