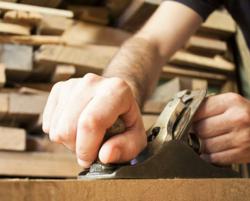 "Construction jobs and lumber yard workers are back in the buzz of business Lumber sales in 2013 are projected to be 15% to 18% above last year's." ~ John Cencak, vice president of Jones Wholesale Lumber
Minneapolis, MN (PRWEB) March 18, 2013
January's housing market increased velocity 22% from January 2012's level as the market continued to gain momentum after posting an annual gain of 15% for all of last year, according to the U.S. Dept. of Commerce. Housing's rebound is pulling up lumber sales and costs with it. ENR's 20-city average price for the most commonly used species of 2 X 4s increased another 0.6% in March, marking the seventh consecutive monthly gain and pushing prices 13% above March 2012's level.
"Twin Cities home builders are gaining a boost from the tight inventory of existing homes for sale. When potential home-buyers cannot find their dream home on the market, they call us to renovate their existing home or may consider building a new home. We depend on countless wood products from hardwood flooring, to kitchen cabinetry, much less the lumber used for framing a home. Home-buyers were out in force during the months of January and February with sales of upper-bracket houses in the Twin Cities on the rise," says Butch Sprenger, owner of Destiny Homes.
Building homes in the Twin Cities remains strong as single-family permits were up 61 percent for the month of February and 80 percent year-to-date over 2012. Total units were also up year-to-date by 18.5 percent. According to data compiled by the Keystone Report for the Builders Association of the Twin Cities (BATC), there were 288 permits for a total of 313 units during four weeks in the month of February, 2013. Year-to-date, there were 656 permits issued for a total of 1,133 units.
Sustained growth in the housing industry's level of home improvement projects remains critical for the economy as a whole, as the preliminary fourth-quarter GDP report from the Bureau of Economic Analysis demonstrates. Home building (residential fixed investment or RFI) was a net contributor to our nation's economy for the seventh consecutive quarter. Home builders are doing more than their share of to boost the economy and lumber sales. "As snow melts, home improvement projects are already picking up," says Destiny Homes.
Makers of plywood, roofing materials and insulation are all seeking to raise prices. The cost of lumber and plywood climbed 11 percent in 2012 and insulation materials rose 5.1 percent, according to Associated General Contractors of America, an Arlington, Virginia-based trade group. As of March 8th, the composite cost of lumber is up to $423 for random lengths. California's timber industry is slowly on the mend after being devastated during the economic downturn.
Home builders are experiencing a promising rebound in requests for new construction, full house makeovers, and home remodels of every size. It is an uptick that Twin Cities home builders are excited about. "The Michigan Home Builders Association is projecting about a 40 percent increase in new home construction, and Minnesota expects no less. I think you're going to see a ten to fifteen percent growth in this area," projects Sprenger.
"We have a good reason to be optimistic and fully anticipates a good year. We are seeing a lot of remodeling of Eden Prairie single-story homes for retiring seniors and Wayzata home renovations as families are making plans to spend more time at home," comments Sprenger.
Posted on March 15, 2013, lumber prices have soared more than 40% over last year as sawmills are reopening and hiring again due to increases in home improvements, according to the Los Angles Times article "Lumberyards bustling again as housing market improves". Truck companies that haul wood out from where it is timbered to suppliers are also reviving, and it stems from the increase in home renovations. "It's a combination of new housing and repairs and remodels," said Mark Pawlicki, spokesman for the Anderson Lumber company which operates 11 mills in California. "The low interest rates for housing are helping. We are seeing an uptick in demand for windows, a lot of which go into remodels of homes." The average mill price for framing lumber in February posted a monthly increase of 4.1%.
Though newly constructed homes represent a slice less than 20 percent of the housing sales market pie, they have an outsize impact on the economy. On top of boosting the lumber industry, each home built creates an average of three jobs for a year and generates about $90,000 in tax revenue, according to data from the National Association of Home Builders (NAHB).
Contact Destiny Homes to take advantage of today's opportunities to build a home or begin a major Minneapolis home improvement project. Choosing the best lumber source is part of what distinguishes a luxury homes and rewarded Destiny Home as Remodel Of The Year 2010. Call Butch or Liz Sprenger at 952-934-5706.