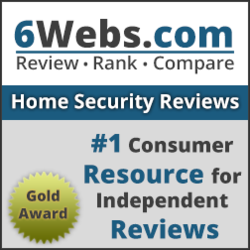 Compare the features and services of the leading home security monitoring companies online at 6Webs.com.
Columbus, OH (PRWEB) March 21, 2013
6Webs.com is the resource consumers refer to when in the market for a home security system. 6Webs.com publishes independent reviews on an annual basis of the leading home security system companies. Each home security company is scored on their customer service, equipment, warranty, monitoring and technology used. Dozens of home security companies undergo this analysis and the 6Webs.com review team publishes the top providers on their website.
The 6Webs.com pick for the best home security system company with a home security app goes to FrontPoint Security. FrontPoint Security is the 2013 Gold Award winner due to the outstanding service they deliver to their customers as well as their 100% cellular monitoring services. FrontPoint Security's Interactive and Ultimate monitoring customers can take full advantage of the remote control features available through their home security app provided through Alarm.com.
Tim Smythe, the senior editor for 6Webs.com states, "FrontPoint Security has won the 6Webs.com Gold Award two years in a row now. They maintain an excellent rating on the Better Business Bureau and they hold an accreditation, which is a big plus as not every home security company is accredited. FrontPoint Security meets all of the consumer demands according to the 6Webs.com review team. They have 100% cellular monitoring services, an outstanding customer service record, mobile access and furnish their customers with warranted equipment from GE Security."
The home security app offered through FrontPoint Security enables customers to remotely arm and disarm their home security system as well as check on the status of sensors, whether doors or windows are open or closed. The home security app also allows customer to stream video directly to their iPhone, iPad or Android device from a wireless security camera placed at their home. These features combined with the ability to receive text message notifications when events occur at the home makes a FrontPoint Security system the best home security system for the money.
To compare the leading home security systems providers in a side-by-side comparison visit 6Webs.com online at:
About 6Webs.com
6Webs.com provides consumers who are in the market for a home security system with the most up to date information. 6Webs.com also focuses on delivering educational information to consumers to help them lead a safer and more secure lifestyle. Visit 6Webs.com and compare the best security systems for the money today.