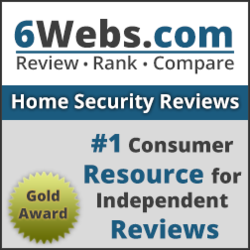 Compare the leading home security monitoring providers at 6Webs.com.
Washington, D.C. (PRWEB) March 07, 2013
6Webs.com, the leader in independent home security systems reviews releases their rankings of the top home security companies. This is the second year that 6Webs.com has provided their independent reviews and rankings to consumers in the market for a home security system. To view the home security system comparisons visit 6Webs.com at:
http://www.6webs.com/home-security-systems-reviews/
Tim Smythe, the senior editor for 6Webs.com stated, "One of the goals at 6Webs.com is to educate consumers; to help them with not only product and services comparisons but with educational information as well. As with any purchase the more educated a consumer becomes the better the decision is going to be. Consumers who are in the market for a home security system don't always have the time to conduct hours and hours of research to make sure they are making the best purchase for their family. This is where 6Webs.com comes in. 6Webs.com has a panel of home security experts that spent the time investigating and analyzing all aspects of dozens of home security monitoring providers. The results of this analysis can be found online where consumers can quickly compare the features and services offered by each company."
At the top of the list of home security monitoring companies is FrontPoint Security. FrontPoint Security offers wireless home security systems with 100% cellular monitoring services to their customers. There are several advantages to selecting FrontPoint Security which include their 100% cellular monitoring services, clear pricing and 30-day money back guarantee. Not to mention they have the best customer service record in the business.
After conducting the FrontPoint Security reviews, the 6Webs.com review team discovered an overwhelming amount of positive customer reviews. FrontPoint Security is accredited with the Better Business Bureau and maintains an A rating. It is apparent that FrontPoint Security maintains a high-level of customer service which translates into a high-level of customer satisfaction.
In second place is Protect America, well-known for offering a great value to home security shoppers with their many affordable home security packages. Protect America celebrated their 20th year in the home security industry in 2012. The third place winner went to ADT Security who offers their customers a wide range of home security services. Consumers who want a professional to install their home security system should consider ADT Security. ADT Security has one of the largest networks of professional security system installers.
About 6Webs.com
6Webs.com is the nation's premier provider of independent and unbiased home security systems reviews. Each year the 6Webs.com review team investigates the top home security systems providers and ranks them on their website according to aspects which are important to consumers.