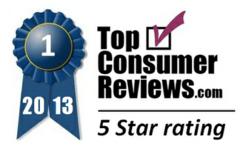 The team at TopConsumerReviews.com analyzes several nationwide home security systems each year.
Overland Park, KS (PRWEB) March 18, 2013
After completing a recent study, TopConsumerReviews.com has announced the benefits of a DIY home security system. TopConsumerReviews.com provides independent reviews for thousands of products including top home security systems in order to help consumers make well informed decisions.
With over 8,000,000 burglaries and thefts occurring each year, residential break-ins are a common occurrence. Many people consider purchasing a home security system but find the installation cost, wiring, and landline needs of a traditional system a roadblock in the process to added security.
The team at TopConsumerReviews.com analyzes several nationwide home security systems each year. They recently identified several benefits that DIY home security options provide to consumers who would not typically invest in a traditional home security system.
Wiring
The wireless technology of most DIY security systems allows for home security to be installed easily, without drilling holes and running wires through the walls. As an added benefit, wireless technology has improved home security systems by allowing more monitoring points around the home that are safe from being cut or tampered with by a potential intruder.
Installation
Wireless home security systems are considered the most flexible and friendly for apartment dwellers and renters. Many require minimal self installation and little to no special skills. Sensors can be attached via adhesive and batteries - the least invasive approach to home security.
Transportability
DIY home security systems are installed by the resident and therefore can be transported to any location, typically with a simple call to the home security company. For renters a DIY home security system provides the flexibility they are looking for when the potential to move or change apartments is a common occurrence.
Phone Line
Many DIY home security systems work using cellular technology. Therefore, access to the respective monitoring service is not dependant on an expensive and unnecessary land line.
To find out more about home security companies, including reviews and comparison rankings, please visit the Home Security Systems category of TopConsumerReviews.com at http://www.topconsumerreviews.com/home-security/.
About TopConsumerReviews.com
TopConsumerReviews.com, LLC is a leading provider of independent reviews and rankings for thousands of consumer products and services. They offer the latest on home security including information, education, and ratings for the best home security systems available today.