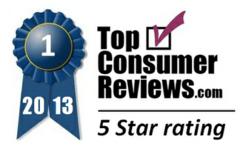 With their annual reviews, TopConsumerReviews.com helps consumers select the best home security system to meet their needs.
Overland Park, KS (PRWEB) March 16, 2013
TopConsumerReviews.com recently revealed the best practices for buying a home security system in 2013. TopConsumerReviews.com provides independent reviews for thousands of products including home security systems in order to help consumers make well informed decisions.
Security experts point a finger at the current economy and unemployment rate as leading causes of residential crime increases across the U.S. Over two million burglaries occur each year - leaving many residents and their families feeling unsafe and unsure at home. Experts agree that in order to reduce the chances of residential crime, property owners should cut back their landscaping, install deadbolts, turn on outdoor lighting, and get a family dog. They also generally agree that a home security system offers the highest level of protection available.
With their annual reviews, TopConsumerReviews.com helps consumers select the best home security system to meet their needs. After a recent study, TopConsumerReviews.com determined that homeowners should identify the following best practices when considering a home security system:
Equipment
Not all home security equipment is created equally. Who manufactures the product? Is it a quality company? Does the home security company offer wireless technology to prevent a cut landline and potential loss in service? What equipment does the security system package include? Will it work well for the property owner's home?
Cost
Homeowners should investigate all of the costs of the home security system before signing a contract. That includes equipment costs, installation, monitoring, and extra sensors.
Monitoring
Does the home security company offer a 24 hour monitoring service? Live monitoring is recommended for the quickest access to authorities if someone attempts to break in or if a medical emergency arises.
Warranty
Does the home security company provide a warranty for faulty equipment should something stop working? How long is that warranty good for? Homeowners should choose a company that offers the longest length of coverage available.
Remote Access
For those individuals that are on the go, does the security company offer remote technology to access cameras, turn on lights and engage the alarm? Not all companies offer this service and the cost may be higher than companies that don't.
To find out more about home security companies, including reviews and comparison rankings, please visit the Home Security Systems category of TopConsumerReviews.com at http://www.topconsumerreviews.com/home-security/.
About TopConsumerReviews.com
TopConsumerReviews.com, LLC is a leading provider of independent reviews and rankings for thousands of consumer products and services. They offer the latest on home security including information, education, and ratings for the best home security systems available today.