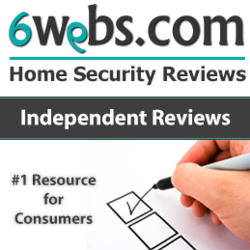 Compare the features and services of the leading home security providers on 6Webs.com.
Newark, NJ (PRWEB) March 06, 2013
6Webs.com has helped thousands of consumers find the best home security system company for their homes and families. The independent reviews site recently released their 2013 home security systems reviews ranking the leading home security monitoring providers in the nation.
Consumer who are shopping for a home security system now have an independent resource to refer to when comparing features and services from multiple home security monitoring providers. The home security comparisons can be viewed at:
http://www.6Webs.com/home-security-systems-reviews/
Tim Smythe of 6Webs.com states, "Selecting the right home security system and monitoring services can be a daunting task if consumers don't have a good reference point. There have been many advancements in the home security industry over the last 5 to 10 years. Now, wireless home security systems with cellular monitoring services are in popular demand along with remote control functionality from home security apps available for download for the iPhone, iPad and Android devices. There are many options available which is why 6Webs.com is the first resource home security shoppers turn to for help."
6Webs.com offers tips to consumers who are looking to purchase their first home security system which are:
1. Read reviews of home security companies. Online reviews, customer ratings and Better Business Bureau ratings are an excellent place to start.
2. Ask around on Facebook. Chances are one of your friends has a home security system and is willing to share their experience.
3. Get quotes from multiple home security companies. It is best to receive quotes from two home security companies and listen to how they are different. Websites like 6Webs.com compares home security system features side-by-side, but it is still a good idea to speak to a representative from the company to see how they treat their potential customers.
About 6Webs.com
6Webs.com is the number one resource consumers refer to who are in the market for a home security system. Focused on providing unbiased and independent reviews, 6Webs.com also publishes educational information to help consumers lead a safer and more security lifestyle. Articles like "How Much Does ADT Cost" are published on their website and provide details on monitoring and pricing plans offered by ADT Security.