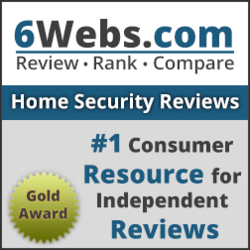 Compare the leading home security system providers online at 6Webs.com.
Chicago, IL (PRWEB) March 28, 2013
6Webs.com is the leading publisher of independent reviews of home security companies that provide monitoring services. Each year the company conducts a thorough investigation and analysis of dozens of home security systems providers and ranks the top companies on their website. Consumers can compare the various features and services offered by each company directly on 6Webs.com at: http://www.6Webs.com/home-security-systems-reviews/
Smartphones are now part of daily life whether it is checking email, sending a quick text message to a friend or calling a family member. The App stores from the leading providers are full of useful applications that make small tasks a breeze. The home security industry is no exception. With the latest advancements in home security, the leading providers now offer remote features for notifications and remote control right from a consumer's iPhone or Android device.
Tim Smythe, the senior editor for 6Webs.com states, "Consumers prefer selecting a home security provider with mobile access. Most home security system providers offer three levels of service. At the basic level there are simply monitoring services provided, the mid-level offers consumer's remote control features and added features and the high-level of services typically include home automation features. After interviewing consumers and home security customers the 6Webs.com team finds that most consumers opt for the mid-level to take advantage of the remote control features."
These features include the ability to remotely arm or disarm the home security system, receive text message notifications when sensors are tripped, or stream video from a wireless home security camera strategically placed inside or outside the home. All of these features comes standard with the leading home security providers ranked on 6Webs.com. The 6Webs.com pick for the best home security company with remote access goes to FrontPoint Security. FrontPoint Security offers their customers wireless home security systems with 100% cellular monitoring services.
To see how FrontPoint Security's customer service rating, monitoring technology and features compare to other leading home security system providers, please visit http://www.6webs.com.
About 6Webs.com
6Webs.com is focused on delivering the most up to date information to consumers who are in the market for a home security system. Consumers can find home security system comparisons and in-depth reviews of the leading providers on the 6Webs.com website. 6Webs.com also publishes educational information to help consumers lead a safer and more secure lifestyle.