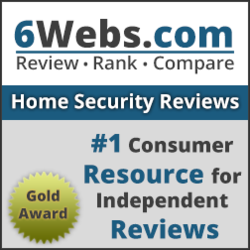 Compare the leading features and services of the top home security companies online at 6Webs.com.
Pittsburgh, PA (PRWEB) March 25, 2013
Each year 6Webs.com conducts a thorough investigation and analysis of dozens of home security systems companies who provide 24/7 monitoring services. As the home security industry advances it becomes harder for consumers to do comparison shopping as there are multiple home security monitoring packages available from each company – all with different features and services.
Years ago, calling the local security dealer to install a home security system was enough to protect the family, but now with the latest advancements in the home security and home automation space, consumers could be leaving themselves at risk by not conducting thorough research before purchasing a security system to protect their home and family.
Tim Smythe, the senior editor for 6Webs.com states, "6Webs.com recognized there was a lack of home security systems reviews that offered detailed comparisons and made recommendations to consumers based on safety, reliability and customer service. Each year literally dozens of home security companies are reviewed and vetted by the team. Only the top providers make it on the 6Webs.com website and a few are awarded with the coveted Gold, Silver and Bronze awards. In order for a home security company to win an award they have to demonstrate responsive monitoring services, provide their customers with high-quality equipment and back it up with a warranty. These are just some of the aspects that are closely looked at when 6Webs.com performs their home security reviews."
The 2013 Top Home Security System Monitoring Companies are FrontPoint Security, Protect America and ADT Security. FrontPoint Security and Protect America both offer their customers easy to install wireless home security system by GE Security. FrontPoint Security carries a Better Business Bureau accreditation and an A rating which is a rare find in the home security space.
ADT Security has been in business for over 100 years and earned the 2013 Bronze Award for providing outstanding service to their customers. ADT Security offers professionally installed home security systems with the option to incorporated home automation features and services.
To review the leading home security companies and to see how their offerings compare, please visit 6Webs.com at:
http://www.6webs.com/home-security-systems-reviews/
About 6Webs.com
6Webs.com is the leading home security system reviews company that is dedicated to providing consumers with the latest reviews and educational information. 6Webs.com conducts annual reviews of the leading home security system providers and publishes information on their website.