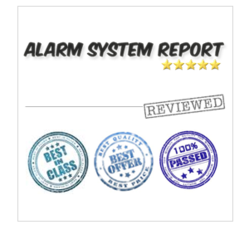 We feel that the equipment needs to be audited as well as the monitoring company. We're in the process of ranking the equipment manufacturers as well and should have a report for consumers shortly.
Reston, VA (PRWEB) September 17, 2012
AlarmSystemReport.com is known for its home security audits. The website has been hiring security system experts to independently audit the top home security companies for quite some time now. These experts ranked each company in a wide variety of categories to provide AlarmSystemReport.com with the unbiased reviews they need on their site.
In addition to this, AlarmSystemReport.com has been using user reviews to help them appropriately rank each home security company. These user reviews help make AlarmSystemReport.com judge how well regular homeowners view a particular alarm company and really add value to AlarmSystemReport.com's home alarm systems reviews.
Recently, AlarmSystemReport.com has decided to employ experts to rate particular home security equipment. These experts will each review a wide variety of systems and equipment manufacturers and will rank them using the same strict ranking methods they use for their company reviews. In fact, equipment that doesn't meet certain requirements won't even be rated at all.
AlarmSystemReport.com hopes to rate and rank cellular alarm systems, DIY alarm systems, wireless alarm systems, and even the older land-line alarm systems. They'll have each expert secretly buy the equipment and rate it without any feedback from their peers. Once all of the ratings are in, AlarmSystemReport.com will then rank each piece of equipment and will post the best alarm systems up on their website.
Just like AlarmSystemReport.com's current reviews, the equipment reviews will be easy to read and homeowners will be able to quickly and easily determine whether or not a particular piece of equipment is right for them or not. The reviews will include a broad overview of the equipment as well as a more detailed analysis of each one as well.
Homeowners who would like to know more about a particular piece of technology can switch from reading the equipment reviews to the informational section of the website. The informational section will clear up any confusion the homeowner has about a particular piece of technology and will make it that much easier for the homeowner to make his or her final buying decision.
AlarmSystemReport.com readers will also be able to find discounts on the top home security equipment at the website as well. The marketing team at AlarmSystemReport.com will continue to push home alarm system companies to offer their website exclusive deals on home security equipment and monitoring services.
To read AlarmSystemReport.com's current home alarm system reviews, please visit their website. When you're there, be sure to bookmark it so that you can come back and read the equipment reviews as soon as their released.