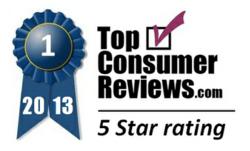 When choosing a home security system, TopConsumerReviews.com determined that homeowners should consider several important factors.
Overland Park, KS (PRWEB) March 17, 2013
TopConsumerReviews.com recently announced the best methods for choosing a home security system. TopConsumerReviews.com provides independent reviews for thousands of products including home security systems in order to help consumers make well informed decisions.
Experts point to the nation's current economic challenges and increase in unemployment as the leading causes for a rising crime rate. Millions of burglaries occur each year with the average dollar loss in the thousands. Not to mention, violent home invasions are on the rise in many areas of the US. Safeguarding a home is fundamentally worthwhile in the protection of a family and their property.
Properly placed exterior lighting and quality made dead bolts can help reduce the odds of being a victim but are not full proof to the more experienced thief. Most experts suggest investing in a home security system for the highest level of protection. The reason is twofold. Statistics show that the majority of criminals will bypass a home armed with a security system and should an intruder attempt to burglarize a home they are more likely to abandon the effort once an alarm sounds.
When choosing a home security system, TopConsumerReviews.com determined that homeowners should consider several important factors.
For one, home security systems can vary greatly in protection, flexibility and price. Homeowners should investigate all of the costs first including equipment, installation and extra sensors. They should also determine if the company provides a monitoring service. Is coverage available 24 hours a day and 7 days a week? Live monitoring is recommended for the quickest access to authorities should someone attempt to break-in a home.
Also, home security companies can offer vastly different guarantees. Does the company provide a money back guarantee for their home security system and a warranty for faulty equipment should something stop working? For homeowners that are on the go, does the company offer remote technology to access cameras, turn on lights and set the alarm using internet access? Finally, is the equipment wireless for the greatest level of protection and the least invasive installation?
To find out more about home security companies, including reviews and comparison rankings, please visit the Home Security Systems category of TopConsumerReviews.com at http://www.topconsumerreviews.com/home-security/.
About TopConsumerReviews.com
TopConsumerReviews.com, LLC is a leading provider of independent reviews and rankings for thousands of consumer products and services. They offer the latest information on home security including education and ratings for the best home security systems available today.