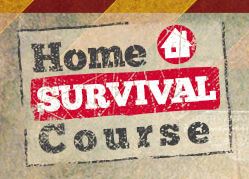 Survival Life knows that America needs more homegrown heroes, and it's easier for that to happen than it may seem.
Austin, TX (PRWEB) March 19, 2013
The Home Survival Course from Survival Life is now available, and it's helping people create the most secure and safe circumstances for surviving at home, through any kind of disaster. A recent SurvivalLife.com article said families are in legitimate danger of being caught completely off guard and not making it through likely disasters, which is why the Home Survival Course was created.
Most survival courses focus on wilderness techniques and outdoor strategies, which the article said are great to know and perfectly applicable to certain situations. But in reality, being stuck in a house with only the supplies that were previously stocked is the most likely post-disaster scenario. The article said preppers need to be ready to protect themselves and their loved ones within the walls of their own homes, and the Home Survival Course will show them exactly how to do it.
Collecting food, storing water, establishing defense plans, and executing power strategies are all main objectives of the Home Survival Course, and are featured in the four main training modules on the course's exclusive online member's area. Also included is a quick start guide, reports helping to avoid the most common mistakes, and more. Audio recordings and written transcripts share the information, and Home Survival Course members can access the content at any time.
Too many Americans are counting on their government to rescue them from a disaster, according to the article. What they don't realize is that the government can't handle the possibilities of major catastrophes, like a power grid failure or a severe disease epidemic. The online piece said individuals and families who take it upon themselves to responsibly prepare for the worst are the most likely to survive any ordeal they are faced with.
The Home Survival Course will advise people to take matters into their own hands and learn the skills needed to rest easy knowing their families are safe. The pioneers of the United States couldn't rely on authoritative powers giving them food and water when needed, and the article said they developed tactics that made them truly self-reliant. Unfortunately, this sentiment is all but lost in today's America, and self-sufficiency ceases to exist as it once did, according to the article.
SurvivalLife.com is a non-politically biased source that is geared toward the survival side of prepping. Subscriptions to the Newsletter bring all of the latest information from SurvivalLife.com straight to readers' inboxes.
Whether readers need wilderness survival tips or strategies to plan for an urban disaster, SurvivalLife.com covers it all. Well on its way to becoming a preeminent member of the survival blog-o-sphere, SurvivalLife.com is contributing to the conversation and hopes readers do as well.
Survival Life knows that America needs more homegrown heroes, and it's easier for that to happen than it may seem, according to the article. If folks step up and fill their roles responsibly, the level of readiness in America will increase and people will be better off should a disaster strike. The article said to find out more information on the Home Survival Course, and take the necessary steps towards complete preparation.