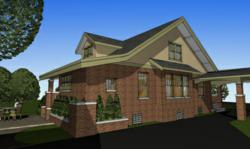 This house is incredibly easy to live in!
ANN ARBOR, Michigan (PRWEB) April 24, 2013
Architectural Resource, a leading Ann Arbor architectural firm, announces one of its projects will be featured on the NARI Tour of Remodeled Homes this Saturday, April 27, 2013 and Sunday, April 28, 2013. The project is an inspired example of Sarah Susanka's Not-So-Big House® design philosophy expressed in a charming 1920's Craftsman Bungalow remodeling project.
Based on the principles of esteemed fellow architect Sarah Susanka and her game-changing, circa-1998 book "The Not So Big® House", Architectural Resource redesigned a 1,800 square foot bungalow. By actually reducing square footage, the design approach valued quality over quantity and tailored the home for the way the family really lived.
The project entails a complete remodel of the main level kitchen, family room, daily entry, private rear porch and basement stairway. Architectural Resource literally transformed the home using innovative design solutions, removing a decrepit solarium and employing an inspired, re-envisioned layout.
"This house is so incredibly easy to live in!" said the homeowner and Architectural Resource's client. Demonstrating exquisite craftsmanship in a residence of modest scale, the public is invited to see great ideas for their own homes whether they are new, remodels, additions or 'subtractions'. More information on the project can be found at http://www.ArcResTour.com.
NARI Tour Information
This home is project number one, one of the 5 from the Plymouth Projects Ensemble, a subset of the total 14 stellar projects located in Ann Arbor and Plymouth that will be featured on this year's NARI Tour of Remodeled Homes. The NARI tour is an annual spring event showcasing the best in residential remodeling design and construction. For additional information and to download the tour brochure and annual NARI membership directory, go to http://www.narisemich.org/.
About Architectural Resource
Headed by Michael Klement, AIA, Architectural Resource is a nationally recognized, award-winning, Ann Arbor-based architectural design firm specializing exclusively in the residential design of new homes, cottages, additions, remodels, and renovations. Featured in Sarah Susanka's recent Not So Big® Remodeling book, Architectural Resource creates tasteful designs which are space and resource efficient. As Michigan's leading Green residential design firm, Architectural Resource has been responsible for the design of the State's first three USGBC LEED for Homes® Platinum level remodels. Since the firm's inception in 1991, our mission has been to create beautiful buildings that are healthy and energy efficient. http://www.architecturalresource.com.