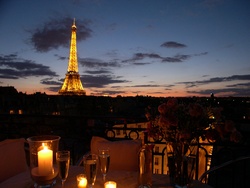 AUSTIN, Texas (PRWEB) February 4, 2008
All vacation rental homes, whether outfitted for a destination wedding or an intimate getaway, provide space, amenities and location options unmatched by hotels.
View a slide show of the best rentals for romantic vacations.
About HomeAway, Inc.
The HomeAway, Inc. websites connect homeowners and property managers with travelers who seek the space, value and amenities of vacation rental homes as an alternative to hotels. With more than 255,000 global listings across the sites, travelers may easily search for budget to luxury-priced vacation rentals on HomeAway.com, VRBO.com, VacationRentals.com, CyberRentals.com, A1Vacations.com, GreatRentals.com, TripHomes.com, Holiday-Rentals.co.uk, OwnersDirect.co.uk, FeWo-direkt.de and Abritel.fr. The sites also feature Reviews and the HomeAway Rent with Confidence Guarantee(TM), which help ensure a memorable HomeAway from home(R) experience. HomeAway is headquartered in Austin, Texas and funded by Austin Ventures, Redpoint Ventures, American Capital, Institutional Venture Partners and Trident Capital.