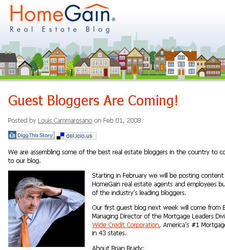 We are pleased to announce the launch of our guest blogger program that brings to HomeGain some of the best real estate bloggers in the country
Emeryville, CA (PRWEB) February 11, 2008
HomeGain, a leading provider of online marketing solutions that connect real estate agents and brokers with homebuyers and sellers, today announced that it received more than six million visits in January 2008, making it the second most visited real estate website in January, according to Hitwise.
Visiting HomeGain's recently redesigned website offers access to popular, free services and tools that allow consumers to:

Get instant estimates of homes values and connect with Source4Sellers™ real estate agents to receive information regarding the home selling process
Find and compare Realtors using AgentEvaluator™
View MLS listings displayed by thousands of BuyerLink™ real estate agents and brokers
Determine the best home improvements with Home Sale Maximizer™
The HomeGain Real Estate Blog is the latest HomeGain resource. Designed for Realtors, the HomeGain Blog has established a network of writers to share opinions, discuss market trends and address controversial real estate issues.
"We are pleased to announce the launch of our guest blogger program that brings to HomeGain some of the best real estate bloggers in the country," said Louis Cammarosano, General Manager at HomeGain. "To date we have featured Brian J Brady of World Wide Credit Corporation, Jay Thompson of The Phoenix Real Estate Guy and Nicole Nicolay of MyMarketWare.com. In the coming weeks we will feature additional guest real estate bloggers including Patrick Kitano of Transparent Real Estate, Kevin Boer of 3 Oceans Real Estate, Mary McKnight of RSS Pieces, Inc. and Kristal Kraft of Denver Dwellings."
The HomeGain Blog regularly features HomeGain real estate agent and broker customers including Mitch Ribak of Tropical Realty, Jeffrey Bastress of Starpoint Realty, Barry Karch of Prudential BKB Realtors, Eric Pakulla of RE/MAX Advantage Realty, Brian Kinkade of Cherry Creek Professionals Realty and Jerry Ryan of Keller Williams Realty.
About HomeGain
HomeGain® is a leading provider of online marketing solutions that connect real estate agents and brokers with home buyers and sellers. HomeGain offers free services to find and compare real estate agents, research home values, and view homes for sale. Realtors use HomeGain's real estate lead generation solutions to connect to consumers, promote their services and grow their business. A subsidiary of Classified Ventures, HomeGain receives an average of over five million website visits per month and has more than 300 online partnerships, including Yahoo! and USATODAY.com. HomeGain is your real estate connection.
About Classified Ventures
Classified Ventures™ is a strategic joint venture among five media companies, including Belo Corp. (NYSE:BLC), Gannett Co. Inc. (NYSE:GCI), The McClatchy Co. (NYSE:MNI), Tribune Co. (NYSE:TRB) and The Washington Post Co. (NYSE:WPO), whose objectives are to collectively capitalize on the revenue growth in the online advertising categories of automotive, real estate and rentals. To execute on its objectives, Classified Ventures has four leading businesses -- Apartments.com, Cars.com, HomeGain and Homescape.
# # #