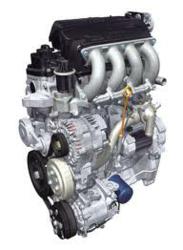 This new warranty is part of an upgrade to the company protection policies.
New York, New York (PRWEB) March 14, 2013
Honda Accord has been a part of the North American automotive industry since 1976. While several variations of body styles have been produced, the quality of the engines has remained a factor in purchase decisions for buyers. The Motor Universe company is now offering a two-year JDM warranty for its Honda Accord engine inventory online. This new warranty is part of an upgrade to the company protection policies. More details can be found at http://motoruniverse.com/honda-motors-for-sale online.
The 2.0 four-cylinder engine has been one type used for the Accord vehicle. This motor has been developed and redesigned through the years to improve horsepower and longevity. While other import automakers rely on V6 motors, Honda has used its four-cylinder technology for more than 30 years.
The new warranty policy in effect for these engines is in addition to a 30-point inspection process recently announced by the MotorUniverse.com company. These inspections are an extra way that quality is maintained and proven before sale.
The creation of the company website last year has helped introduce preowned engine buyers to one of the largest online inventories. The distribution network now in place for this company is responsible for all shipments into and out of the company warehouse.
New partnerships have recently been announced that make it possible for JDM engines for the Honda and Acura brands to be sold without additional fees for buyers. This removal of shipment, import and other types of fees represents more ways this company is helping lower prices for buyers.
The JDM warranty now in place applies to the Toyota brand of engines in stock. A recent introduction of the Toyota brand of motors into the company inventory has helped make this warranty possible. The announcement for the Toyota arrival can be read at http://www.prweb.com/releases/toyota-motors-for-sale/01/prweb10292439.htm.
These changes are part of the import inventory upgrades that were announced earlier this year. Other engine types are expected to be included for sale this year for buyers. This information will be released to the public when sales are ready to be made online or by toll-free number.
About Motor Universe
The Motor Universe company stocks import and domestic engines that are sold to vehicle owners and other companies in the automotive industry. This company is one of few now quoting pricing online directly to vehicle owners. The discount pricing offered for all sales is one way this company is lowering costs for purchasing a motor on the Internet. The Motor Universe company now offers warranties for all preowned motors in stock. These combined measures are examples of recent changes that have been made to the company policies.