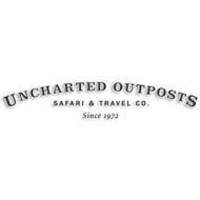 Los Angeles, CA (Vocus) November 24, 2007
Exotic travel is, by far, the most romantic experience two people can share. No matter what stage the relationship is in - whether still trying to convince a woman to commit, ready to exchange vows or have already taken the plunge - Uncharted Outposts Safari & Travel Company, the premier tour operator catering to discerning travelers, will customize a majestic, luxurious African voyage for two that she'll never forget. The company's properties in breathtaking locations, coupled with its breadth of experience, assures that any plan to sweep her off her feet goes off without a hitch.
WOO HER
Whether dating or ready to propose, there's no better way to bond than by being on Safari at - Garonga Safari Camp. Bathed in a soft golden light, voluminous swathes of creamy white canvas lie draped over earth-fired adobe walls - Garonga Safari Camp is truly southern Africa's best-kept secret. A stunning escape set amid one of the Africa's great conservation areas, it is a tranquil retreat set apart. Nestled at the foot of the Drakensberg Mountains in South Africa's Northern Province, Garonga forms part of the sprawling Makalali wildlife conservancy. The area is populated with elephants and white rhinos, as well as lions, leopards, cheetahs, spotted hyenas and hippos.
During summer months, couples enjoy a picnic perched atop big cushions on a tree platform deck overlooking a water hole. While feasting on gourmet food and chilled drinks, couples watch as game roam nearby. Or better yet, couples can spend the night alone on the treetop platform, armed with the bare essentials - a plump bedroll with crisp linen sheets and a fluffy down comforter, draped with a mosquito net, a gourmet picnic supper, bottles of fine South African wines and of course a radio . . . just in case the subject of calling someone comes up!
WED HER
The destination wedding has never been more popular - and what a phenomenal wedding destination Kenya's Cottars 1920s Camp is! Getting married in the wild is an unforgettable way to exchange vows; saying "I do" under a clear, blue African sky surrounded by chanting Maasai warriors. Cottars hearkens back to the romance and opulence of early 20th century travel, and is the perfect place for soulmates to unite in wedded bliss. The experts at Uncharted Outposts will arrange the most intimate, unforgettable wedding anywhere.
Bookend the event with tailored itineraries supported by superb guides who'll lead the honeymoon couple through the Maasai Mara's unspoiled setting. If the wedding's in July or August, the couple and guests will behold the great wildebeest migration from the bordering Serengeti. Any time of year, visitors see hippos, impalas, buffalos, zebras, cheetahs and more. A walking safari allows couples to remain hand in hand - or take an authentic wooden car or oxen pulled wagon to evoke timeless romance.
Lodging is in one of six canvas tents that come with a guarantee of privacy. Accommodations are spacious and luxuriously outfitted with safari antiques, old-fashioned showers and an outdoor veranda. Before or after the ceremony, each person can visit the camp's masseuse for complimentary spa treatments. Well-trained butlers are on hand to meet any other need.
WHISK HER AWAY
After tying the knot, newly married couples can celebrate their honeymoon at the Sanctuary at Ol Lentille, which is without question the most luxurious lodge in Kenya. Situated on the edge of Samburu, the Sanctuary at Ol Lentille includes four stunning houses, a 'horizon' swimming pool with beautiful cream canvas lounging and dining pavilions, a spa and massage house, a game-viewing deck with bar (which at night is equipped with a GPS-controlled telescope), and a club room, known as the Library, where guests may gather by the fireside to talk, play backgammon or dine.
The Sanctuary is surrounded by the 6,500-acre Ol Lentille Conservancy, named for nearby Ol Lentille, a 6,486-foot hill. The area is home to the endangered African wild dog, greater kudu, leopards, striped and spotted hyenas and klipspringer, as well as more common species.
Honeymooners choose to be as active as they want to be, with an abundance of choices, such as horseback riding, camel trekking, mountain biking, rock climbing and scrambling, walking, game tracking, light aircraft and helicopter trips, 4-wheel-drive excursions, croquet, a parcourse jogging trail, and cultural lectures and demonstrations.
For every stage on the path to romantic bliss, Uncharted Outposts will set the scene for love.
Contact:Sandy Cunningham
Uncharted Outposts
sandy(at)unchartedoutposts.com
Uncharted Outposts, destination wedding and African safari honeymoons
Local: 505-795-7710
Toll-free: 888-995-0909
###