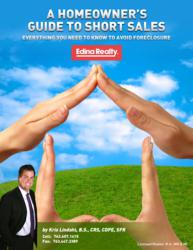 "People that list their homes with me, will have greater exposure than listing with most other agents, because the home will be seen by more people. I use technology, and advertise the home online where..."
Hopkins, MN. (PRWEB) September 22, 2012
The Short Sale Video Series that Kris Lindahl, a top Hopkins Short Sale Agent, has been releasing, is being very well received. Kris Lindahl is getting calls and emails from people wanting to know when he will be releasing more videos. Kris Lindahl also provides additional resources and tools to help people determine their short sale eligibility.
Kris Lindahl is the #1 Edina Blaine Short Sale Agent, and has released a Minnesota Down Payment Resource website, at MNShortSaleCalculator.com, which is just one of several powerful tools the company plans to launch in the coming weeks to help Minnesota residents with their real estate issues and questions. The eleven year veteran, Kris Lindahl, has also launched a Wisconsin short sale WisconsinShortSaleCalculator.com website to help the homeowners of Wisconsin.
The aggregation of state and county down payment assistance programs is a first in the Minnesota and Wisconsin real estate industry, and a big help to the Minnesota and Wisconsin home owner wondering if a short sale is what should be done with their home.
"People that list their homes with me, will have greater exposure than listing with most other agents, because the home will be seen by more people. I use technology, and advertise the home online where more people will see it first," Kris Lindahl says. "Using technology is the best way to reach the current market, because everyone is using either a computer, laptop, tablet, or smart phone to surf the web and get the information on short sales, housing issues, rentals, homes to buy, even advertising their homes for sale online," Kris Lindahl says.
The first 2 videos that have been released by the top Hopkins short sale agent Kris Lindahl, are videos explaining the Wells Fargo Short Sale Process, and on the Bank of America Short Sale Process. "I use technology, because it is the easiest way to get information out to the most amount of people, and people are using technology now to find information," Kris Lindahl remarks. The third video in the short sale video series is about the Fannie Mae Short Sale Process, with the 4th video explaining the Freddie Mac short sale process.
Kris Lindahl, who is a top Hopkins Short Sale Agent, also provides additional information, and thoroughly covers all aspects of the short sale process, in the newly published comprehensive "Homeowners Guide To Short Sales" book.
"The Kris Lindahl team of experienced short sale agents can quickly handle any Minnesota real estate short sale, or a homeowner looking for a Wisconsin short sale, should visit the WisconsinShortSaleCalculator.com website," Kris Lindahl says. Call Kris Lindahl, the top Hopkins Short Sale Agent at 763-447-3925 or visit the MNShortSaleCalculator.com website for more short sale information.