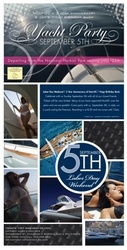 Washington, DC (PRWEB) August 30, 2010
On Sunday, September 5th, Labor Day Weekend, Host-DC and RTA Events invite you to celebrate Host-DC's three year anniversary in grand fashion. Join us for a night of opulence and elegance as we cruise the Potomac on the Pelican; a 64 foot luxury yacht charter equipped with a high end ship wide audio system, fully stocked cash bar, lavish buffet, and several satellite televisions.
The event will be hosted by Sonya Lowery of World Next Door TV and is sponsored by Chairman's Reserve Rum. Departing from the National Harbor Marina and Pier, guests will enjoy spectacular views of DC's monuments as we laugh, dance, and party underneath the stars.
Boarding begins at 8:30pm and ends promptly at 9:00pm. Guests will enjoy one complimentary Chairman's Reserve Rum cocktail as they board and $5 Chairman's Reserve Rum cocktails for the rest of the night. The yacht cruises from 9:00pm - 12:00am.
Tickets are very limited and can be purchased by visiting http://hostdcyachtparty.eventbrite.com. Your finest attire is requested to celebrate this once in a lifetime event. For birthday parties, media requests, and more info please call 202-498-9621 or email info(at)host-dc(dot)com.
Thank you for your support and we hope to see you on September 5th.
###