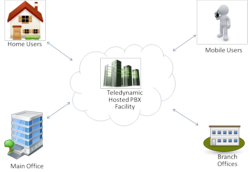 With the RVA solution, we see a noticeable and immediate difference in call quality with clients. On top of that we usually increase their bandwidth for data AND eliminate their monthly telecom bill as well! It's really a no-brainer for small companies.
Hayward, CA (PRWEB) September 24, 2012
Teledynamic Communications, a leading Bay Area telecom provider, is proud to introduce their new Resilient Voice ArchitectureTM (RVA) for Hosted PBX - the first Business Voice Hosted PBX service to virtually eliminate hosted business VoIP call quality and reliability issues.
The RVA for Hosted PBX combines dual voice circuits with an intelligent voice gateway and a turnkey Hosted PBX service to create a worry-free hosted environment for small business' voice communications needs.
As a long-time Leading Bay Area California Hosted Business VoIP Provider, Teledynamic has found that call quality issues are rarely caused by the underlying VoIP (Voice over Internet Protocol) technology. Instead, the culprit is almost always the network. Many company networks are simply not optimized for the combined data loads of data and voice.
Teledynamic's Resilient Voice Architecture for Hosted PBX was developed to change all of that.
Randy Kremlacek, President of Teledynamic Communications comments,
"What's great about the RVA is that we can go into a small business, get them set up with the RVA and see a noticeable difference in call quality immediately. We can usually increase their available bandwidth for data applications and eliminate their monthly telecom bills at the same time too! Frankly, it's kind of a no-brainer for a lot of small companies."
Teledynamic's Hosted PBX service provides everything you'd expect from a traditional, on-premise PBX solution; the only difference is that it's in the cloud.
The data circuit transports email, file transfers and Internet data fast, and the voice circuit provides different and ideal environment for transporting voice with guaranteed performance, uptime and quality of service (QoS) built right into the circuit.
The final piece of the solution is the intelligent voice gateway, which is specifically designed to optimize voice traffic and provide voice and data resiliency.
What does this mean for your business? If one circuit fails, the Voice Gateway senses it and can route traffic to the other circuit in near real time. You don't even notice it. Once service is restored, traffic is routed back to the original pattern.
Teledynamic provides the kind of innovative technology that gives local businesses the leverage and edge they need to be successful.
Now with Resilient Voice Architecture for Hosted PBX, businesses can say goodbye to voice over data problems and start doing Hosted PBX the right way.
About Teledynamic Communications
For over 33 years Teledynamic Communications has been serving the San Francisco Bay Area small and medium businesses with world-class communication systems from their Hayward, California office. Their specialties include Hosted and Premise based PBX, SIP Trunking and Unified Communications. Teledynamic Communications prides itself on delivering impeccable service with highly trained customer-oriented personnel as their core business model.