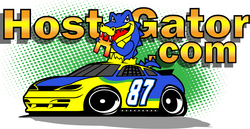 If Joe Nemechek places ahead of Danica Patrick, HostGator is offering a free year of shared web hosting service to any Go Daddy hosting clients who switch their service to us on race day
Houston, TX (PRWEB) July 9, 2010
Competing web hosting companies HostGator.com and Go Daddy will go bumper-to-bumper this Friday at Chicagoland Speedway for the NASCAR Nationwide Series Dollar General 300. Joe Nemechek will race the No. 87 HostGator.com Chevrolet, competing against the No. 7 Go Daddy car driven by Danica Patrick.
"Racing competition has always been a lot of fun and a big part of the sport. Bringing in a competing sponsor will give fans more interest in the racing and the competition. We are glad that HostGator jumped on board," said Joe Nemechek.
This is HostGator.com's second race in the Nationwide Series. Their debut was last week for the Coke Zero 400 in Daytona where veteran driver Joe Nemechek qualified 32nd and finished 16th and currently is ranked at 22. Danica has completed three races so far this season with a rank of 70.
"If Joe Nemechek places ahead of Danica Patrick, HostGator is offering a free year of shared web hosting service to any Go Daddy hosting clients who switch their service to us on race day," said Lance Custen, CEO of HostGator.com. "We're super excited to be teaming up with Joe for another race, and looking forward to a little friendly competition between HostGator.com and Go Daddy."
About HostGator.com
HostGator.com LLC is a world leading provider of shared, reseller, and dedicated web hosting. Privately held and based in Houston, Texas, the company was founded in 2002 by current Founder and Chairman Brent Oxley, who started the company from his dorm room at Florida Atlantic University. Since then, HostGator has grown from a small hosting company with just three servers into a world leading and industry recognized hosting provider with more than 8,000 servers under management. The over three million domains hosted by HostGator make up approximately 2% of the world's Internet traffic. For more information, please visit HostGator Web Hosting.
# # #