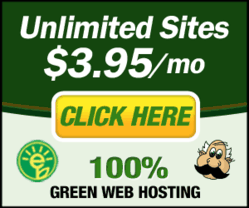 San Francisco, CA (PRWEB) April 19, 2012
The leading web hosting discount website Top-Cheap-Web-Hosting.com announces the new HostPapa promotion for their award-winning unlimited green web hosting plan. All visitors to HostPapa with this promotion can get the best discounted price for $3.95/mo, approximately 50% off from the regular price $7.95/mo.
HostPapa is an international green web hosting provider with rock-solid experience in the web hosting industry. They have multiple data centers in US, Canada, Australia, UK and Mexico serving for clients globally.
HostPapa has taken the initiative of going green by purchasing 100% green renewable energy to power their data centers, web servers, office computers, laptops and office space. These energy sources supply HostPapa's entire equivalent energy consumption into the power-grid with certified 100% renewable green energy sources, such as wind and solar-powered energy.
HostPapa doesn't cut off any original features because of the 50% discount. Their unlimited green web hosting plan includes 1 free domain for life, unlimited domain hosting, $100 free Google AdWords credits, $50 free Facebook Ad credits, $25 free Bing/Yahoo Search credits, and $25 free Miva PPC advertising credits. HostPapa supports almost all the latest cutting-edge technology for Linux and Apache platform including PHP, Ruby on Rails, Python, Perl, MySQL, CGI, Secure Shell (SSH), Fast CGI, and SSL.
Visit http://www.top-cheap-web-hosting.com/hostpapa-coupon-reviews to claim for 50% discount and to learn more information about HostPapa.
In April, 2012, TCWH announces promotions and coupon codes for 10 famous web hosts totally, including WebHostingHub, BlueHost, HostGator, GreenGeeks. Visit http://www.top-cheap-web-hosting.com/web-hosting-coupon for more web hosting promotions and coupon codes.
About Top-Cheap-Web-Hosting.com
Top-Cheap-Web-Hosting.com (TCWH) is a leading web hosting review and discount site, rating web hosts independently based on their sole experience and real customer voice. TCWH is designed to help consumers find the best web hosting deal at an affordable rate. Visit Top-Cheap-Web-Hosting.com for web hosting review, rating and promotion.