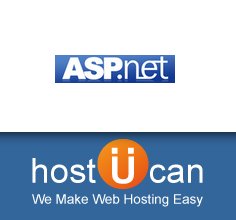 HostUCan make ASP.Net hosting easy!
(PRWEB) March 29, 2012
HostUCan.com, an industry leading web hosting review and search web site, today announces the available of their asp.net hosting search tool with which people could easily find an ideal web hosting solution for a asp.net site.
ASP.NET is a free web application framework developed by Microsoft with which programmers could build dynamic web sites, web applications and web services. Normally, ASP.net runs in a commercial Windows environment.
"A good ASP.Net hosting should come with the latest .NET framework and the greatest asp.net components. In HostUCan, you will find the real hosting reviews from real asp.net developers, and the best asp.net hosting solutions based on the analysis of those reviews," said HostUCan.com.
HostUCan ASP.Net hosting search tool is designed to help find the best hosting solution for ASP.Net site. The system will leverage customer reviews submitted for each web hosting solution, combined with data center facility, price value, uptime data, year in business and branding, come out a score for each plan based on ASP.Net and the daily page view. With this tool, ASP.Net user could find an ideal solution based on the traffic of their sites.
Want to know more about HostUcan ASP.Net Hosting Search tool, test it out at: hostucan.com/group/aspnet-hosting.
About HostUCan.com
HostUCan.com is a need-centric web hosting search and review platform. Their powerful products search engine could help webmasters find the best hosting solutions based on their hosting needs. HostUCan is also a place for webmasters to share their hosting experience and to seek information from other experts.