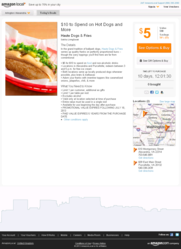 Alexandria, VA (PRWEB) March 09, 2013
Located in Alexandria and Purceville, Virginia, Haute Dog & Fries is offering a LivingSocial coupon, which has now been extended to Amazon Local. Participants of these couponing programs will get to enjoy their favorite hot dogs, chili dogs, and cheese-smothered fries at a reduced cost for a limited time. The promotion offers $10 worth of hot dogs and fries for $5 and can be redeemed at either of their two locations.
"These coupons are a great way for us to thank our loyal customers who have already figured out what their usual order is when they come in," says Lionel Holmes, co-founder of Haute Dog & Fries. "And for those who haven't visited us yet, they get a chance to try us out at a lower price. Knowing how our regular patrons love our food, we're confident they'll return to try something new."
As with most of the coupons, the limitations are on food only, no alcoholic beverages are included, but these can be used on free ice cream between 3 p.m. and 5 p.m. The coupons themselves list more information including limitations of one coupon per customer, one table per visit and the entire value must be used in a single visit.
Haute Dog & Fries was a recent finalist in the NoVA Wars: Super Chili Bowl 2013, Northern Virginia Magazine's competition to find the best chili in NoVA. Their owners are actively engaged in supporting locally sourced produce and vendors for their dogs, brats and kielbasa.
Haute Dogs & Fries offers a fresh take on the family dining experience, serving the same hot dogs found at Boston's Fenway Park. However, these aren't the typical ballpark franks. Each hot dog is served hot off the grill on fresh buns and dressed with fresh toppings such as caramelized onions, sauerkraut, jalapeño peppers, mangoes, and Lionel's own homemade Chili recipe. Handcut french fries made from Idaho potatoes and sweet potatoes are a specialty at Haute Dogs & Fries and complement every dish.