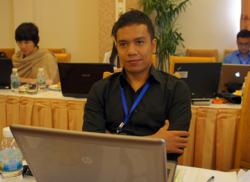 Hotel Link Solutions Bali now has in place a dedicated team of professionals ready to quickly and efficiently enhance the online presence of local accommodation providers throughout the island.
Sanur, Bali, Indonesia (PRWEB) March 27, 2013
As part of its expansion across Southeast Asia and the South Pacific, Hotel Link Solutions has appointed Bali Discovery Tours – Bali's leading destination-management company – as the sales agent of its digital solutions for local businesses in the hospitality and tourism industry.
Operating as Hotel Link Solutions Bali, the new division of the Bali-based company is licensed to sell the Hotel Link Solutions advanced software system that provides digital-marketing solutions for small to medium-sized hotels, guest houses, condotels and villas. With access to fully-functional websites and a state-of-the-art booking engine, accommodation providers obtain a level of control over their pricing and inventory previously only available to larger branded hotels. Hotel Link Solutions also provides hotels and villas with channel management, a tool that allows for real-time instant access to leading online travel agents and ensures the widest distribution of room inventories.
Hotel Link Solutions Bali now has in place a dedicated team of professionals ready to quickly and efficiently enhance the online presence of local accommodation providers throughout the island. In addition to template-driven websites and channel management, Hotel Link Solutions Bali offers booking widgets for established websites.
Chandra Himawan and Bali Discovery Tours
Heading Hotel Link Solutions Bali is Chandra Himawan, a Jakarta native with degrees in hotel management from Trisakti University and the University of Salamanca in Spain. Following this, Himawan worked for several years as a broadcaster with TV One in Jakarta, undertaking a number of overseas broadcast assignments.
With a desire to get back in the world of hospitality, Himawan met with Bali Discovery, one of the biggest tour companies in Bali. On a mission to help small and middle-sized hotels, he was soon appointed to head Hotel Link Solutions Bali because he sees the innovations possible through Hotel Link Solutions as the best solution for hotels in Indonesia.
'Bali is one of the most popular destinations in the world, however we understand that many accommodation providers still have a lot to learn about how to benefit from the online travel market,' stated André Franchini, CEO of Hotel Link Solutions. 'We have the right tools to get them started on this journey.'
Having established Hotel Link Solutions Bali in December 2012 and undergone a period of training at an international gathering of Hotel Link Solutions professionals in Vietnam, Himawan and his team are now busily signing up hotels and villas in Bali and other parts of Indonesia. One of the first accommodations to take advantage of Hotel Link Solutions technology is EDU Hostel, which is already benefiting from increased sales.
'It is particularly rewarding to be able to offer a low-cost digital marketing solution to Indonesian accommodation providers that virtually eliminates the cost of maintaining an inhouse IT department,' says Himawan. 'It also empowers owners and operators with new real-time flexibility in pricing and inventory control, and has a proven ability to increase online bookings through online linkages we facilitate with major online travel agents.'
About Hotel Link Solutions
Hotel Link Solutions is a first-generation digital-marketing services provider for the accommodation industry. As a WHL Group and ResOnline joint venture, Hotel Link Solutions has tapped deep resources and wide industry reach to develop a world-class and competitive range of products. Hotel Link Solutions is committed to building a sustainable future for travel and to ensuring that all relationships with clients, staff, business partners and host communities are win-win.
For more information, visit http://www.hotellinksolutions.com or contact Chandra Himawan at chandra(at)hlsbali(dot)com, +62 361 286-283.