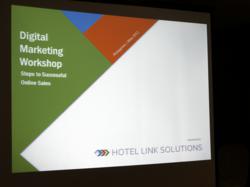 Online bookings and web presence are vital for hotels that want to be part of the travel industry's growth in the Philippines.
Manila, Philippines (PRWEB) June 26, 2012
Hotel Link Solutions, a new company that provides easy-to-understand and comprehensive digital-marketing solutions to accommodation providers, is poised to extend its reach into the Philippines. Targeting local hoteliers, Hotel Link Solutions services are specifically designed to help small- and medium-sized businesses harness the power and reach of the internet to boost a hotel's visibility and facilitate effortless online booking.
Extensive field research undertaken by Hotel Link Solutions in the Philippines reveals a wealth of potential, particularly in the hotels and services industry, which employs about 2 percent of the local population and will need to respond to what the national government expects will be a 5.53 percent increase in inbound tourists between 2012 and2016.
"Online bookings and web presence are vital for hotels that want to be part of the travel industry's growth in the Philippines," said André Franchini, global CEO of Hotel Link Solutions. "Our technology solutions have all they need, including an easy-to-use interface."
Hotel Link Solutions has signed an agreement to partner with Go Discover Travel Ltd., a local company based in Boracay ,Philippines, and to which it has licensed its suite of digital-marketing tools that include hotel-website services, booking widgets, channel management and social-media services. In turn, Hotel Link Solutions Philippines has recruited an experienced team to showcase the internet-marketing tools that can assist hotel owners and managers in their search for remedies to the complicated online issues they face in the hospitality industry.
The Hotel Link Solutions team in the Philippines will focus initially on small- to medium-sized hotels in Boracay, Manila, Palawan and Cebu before reaching out nationwide. Hotel Link Solutions expects more than 1,000 hotels in the Philippines will have access to digital-marketing packages by 2015, following in the footsteps of a handful of websites already live and operational in the Philippines.
"Our own Department of Tourism considers that the major problem facing the Philippines is a lack of awareness," said John Maclang, who manages the sales rollout of Hotel Link Solutions products across the Philippines. "I am excited to see the long-term effect of enabling hundreds of hotels to become visible online for the independent travel market. I look forward to seeing the impact on tourism as a whole in the Philippines."
About Hotel Link Solutions
Hotel Link Solutions is a first-generation digital-marketing services provider for the accommodation industry. As a WHL Group and ResOnline joint-venture, Hotel Link Solutions has tapped deep resources and wide industry reach to develop a world-class and competitive range of products. Hotel Link Solutions is committed to building a sustainable future for travel and to ensuring that all relationships with clients, staff, business partners and host communities are win-win.
For more information, visit http://www.hotellinksolutions.com or contact Helen Atanacio at helen(at)hotellinksolutions(dot)com, +63 2 5072439.