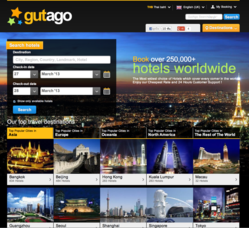 GutAgo.com allows you to make a payment only after you arrive at the hotel.
New York, NY (PRWEB) March 29, 2013
Gutago.com is proud to announce the recent launch of its redesigned hotel reservation website. In order to provide travelers with an easier and more user-friendly hotel booking experience, Gutago.com decided to redesign its entire interface. New features include a FAQ page, a new and improved customer review section, as well as daily special deals.
After a successful first year, Gutago.com decided to add a FAQ page to their website in order to continue their excellent customer service and support. The FAQ page answers questions regarding Gutago.com's booking process, billing methods, and various hotel policies. Gutago.com's staff speaks over 41 languages, so travelers need not worry if additional questions pop up during the booking process. Visitors to Gutago.com need simply to click on their native language or local currency in the top right hand corner to change the website according to their personal preferences.
The newly improved customer review section allows travelers to leave their thoughts for the benefit of future visitors. Depending on their overall score, hotels are rated accordingly: Pleasant, Good, Very Good, or Fabulous.
Gutago.com works with both hotel managers and travelers alike in that it allows hotels to include their own special promotions or discount rates. This revolutionary hotel reservation website does not ask for pre-payment, nor do they add any additional service fees to their prices. What a traveler sees on the site is what they will pay when they arrive at the hotel. In fact, Gutago.com only keeps credit card information until a traveler safely arrives and checks in at their reserved hotel. Cancellations or changes made to reservations depend solely on the hotel, not Gutago.com.
Finally, the newly updated site also includes a new Facebook fan section which allows visitors to like and share Gutago.com with their friends and family.
About Gutago.com
Since 2012, Gutago.com has provided travelers with a fast, easy, and secure hotel reservation system without all of the hassle and extra fees. By booking first and paying upon arrival, Gutago.com allows travelers to feel at ease while planning a business trip or family vacation. With staff in over 70 countries, Gutago.com aims to provide excellent customer service for travelers worldwide.