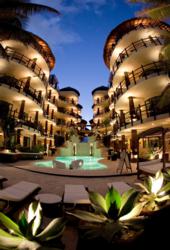 We are honored to have our Playa del Carmen hotel showcased in TripAdvisor again this year.
Playa del Carmen, Mexico (PRWEB) March 12, 2013
Condo Hotels Playa del Carmen is proud to announce that their El Taj Oceanfront and Beachside Condo Hotel has been included in this year's Top 25 Luxury Hotels in Mexico. This is the second year the hotel has been recognized by the popular consumer review site.
Travelers' Choice 2013 is a list curated by TripAdvisor based on customer reviews for hotels around the world. The popular website for vacationers takes a detailed look at reviews and ratings to determine the top 25 hotels in a number of categories. El Taj has been ranked 15th on the list of the Top Hotels in Mexico. In 2012, they were ranked in the Top 25 for the categories of Top Hotel, Top Luxury Hotel and Trendiest. On TripAdvisor, El Taj can always be found in the top 10 out of 183 Playa del Carmen hotels.
"We are honored to have our Playa del Carmen hotel showcased in TripAdvisor again this year," says Jack Pearlman, owner of Condo Hotels Playa del Carmen. "We also love to hear that we've created memorable experiences from our guests. We read and reply to every customer who has posted a review on Trip Advisor. It's a great way to see how we're doing and help us improve."
On the hotel's page on TripAdvisor, vacationers can read glowing reviews from past guests who have stayed at the hotel. Many guests have remarked that it is a great place for Playa del Carmen weddings and honeymoons as well as a luxury vacation spot for couples of all ages. With self-service condo accommodations, it also continues to be a great choice for families who are looking for an ideal location. Many guest reviews are from vacationers who have come back a second, third, or fourth time. As one reviewer remarked, "El Taj is my home away from home."
For Playa del Carmen hotels on the beach, El Taj is an exceptional location with plenty of amenities. The decor is Bali-inspired and the property lush with native plants, waterfalls, and koi ponds. As a condo hotel, guests are able to enjoy the comforts of home while on vacation. Condo sizes range from a private one bedroom to a spacious four bedroom. The location is perfect for any disposition, too. Visitors can head out for Mexico excursions and adventures like fishing, hiking, and scuba diving. The hotels are close to shopping and nightlife in the heart of the city. Guests can also spend quality time at the exclusive Indigo Beach Club.
In addition to El Taj, Condo Hotels Playa del Carmen has a variety of different properties near the famous Fifth Avenue. Each one is distinct and offers a unique vacation opportunity. For more information about booking, please visit the El Taj Oceanfront and Beachside Condo Hotel website at http://www.eltaj.com/ or contact the office at +52 984 803 0108. It is located at 1 Norte Esquina Calle 14 Norte, 77710 Playa del Carmen, Quintana Roo, Mexico.
About Condo Hotels Playa del Carmen
Condo Hotels Playa del Carmen have earned some of the highest ratings on TripAdvisor over the years. The company operates a number of top rated Playa del Carmen hotels in Mexico. Located in the premier zone guests have access to local shopping, restaurants, and attractions.