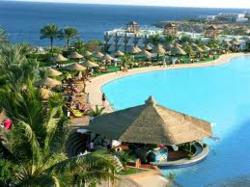 Travelers will find both 3 star budget to 5 star luxury resorts accommodations in Sharm El Sheikh that render you top class amenities with All Inclusive meals around fifty dollars which is a steal!
(PRWEB) September 27, 2012
Sharm El Sheikh Hotels are spread all over the city and they are best known for their warm hospitality and amiable services. Travelers will find both 3 star budget to 5 star luxury resorts accommodations in Sharm El Sheikh that render you top class amenities with All Inclusive meals around fifty dollars which is a steal! Most hotels in the city are situated in the Na'ama Bay, a popular hub of nightlife and dining.
Sharm El Sheikh, also known as the City of Peace ( It was tagged as this because of the many peace conferences held here), is now home to many 5 star Hotels chains known around the world, like the Hyatt Regency Sheikh and the Hilton Hotel Sharm Waterfalls. Although a large number of the visiting tourists are those wanting to explore the underwater treasures of the Sinai waters, there are still those who just want to be out of the water and enjoy the many beautiful landscapes and explore the culture of Egypt. And many, if not all, of these millions of tourists book their stay at one of the hotels in Sharm.
The Hyatt Regency Hotel will be comfortable to stay at when visiting this part of Egypt especially if you are visiting for both business and vacation. The Hyatt hotel is only 10 kilometers away from the airport and is accessible through a very well paved road. The Hyatt Sheikh Hotel has 439 luxurious rooms furnished with a Mediterranean themed designs. You can have a stunning view of the beautiful Red Sea from the balcony or terrace of each room. You will really feel comfortable with the fine Egyptian cotton linens in each room, feel like royalty in the marble bathrooms, each with walk-in showers and more. Plus you could still do business while relaxing in your room because each room is equipped with computers with high speed Internet access.
Among the many amenities in the hotel is a Spa center, a health and fitness center, tennis courts and a basketball court. There is also a water sports center to accommodate scuba diving activities. Of course a pool complex will never be absent in any Hyatt Hotel. Both adult and kids alike can enjoy the many slides, whirlpools, river and cascades of the water pool complex.
Dine in style at the one of four restaurants in the hotel serving sumptuous international food like Thai, Mediterranean, Italian and other cuisines. No doubt, you can certainly enjoy fresh seafood here since Sharm El Sheikh is still a fishing port,as well as a tourist haven.
After your meal you can truly relax in their azure lounge with its sun terrace, a poolside bar and a music bar.
The Hilton Hotel Sharm Waterfalls, name will speak for itself. Staying at a Hilton Hotel anywhere in the world will truly make you feel like royalty and the Hilton Hotel in Sharm has a large number of luxury suits to choose from. Many have such amenities includes a cafe area with genuine coffee and - or tea maker, mini bars, satellite televisions in every room with spacious bathrooms equipped with hair dryers, blowers and much more. There are also four restaurants here, the Verdi's Bistro, La Cascade and Zahle and the Pool Island Bar and Restaurant.
Al Diwan Sharm Resort Hotel: This is a 3-star lodging which is located very close to the city center and is approximately 14 km away from the nearest airport. This public house is close at-hand to the Ras Mohammed National Park. Al Diwan Sharm Resort Hotel offers a 24-hour room service to its guests, and also offers other facilities such as in-house market, laundry service and a restaurant-cum-bar. You can also enjoy playing Billiards and Football in the hotel premises.
Halomy Sharm Resort Hotel: One of the most beautiful amongst the numerous Sharm El Sheikh hotels, the Halomy Sharm Resort Hotel also happens to be a 3-star accommodation situated beside the city center. This beautiful hotel offers a 24-hr check-in facility together with an in-house shopping plaza, and Parasols. You can also enjoy the mini club of this hotel and if you are on a business trip then you can take advantage of the currency exchange and business center facilities.
These are just four of the many top class luxury and budget Sharm El Sheikh Hotels. With over 200 licenced hotels in the immediate Sharm area, there are many others from which to choose.
Visit http://hotel.7ujuzat.com/City/Sharm_el_Sheikh.htm to view Sharm El Sheikh hotel offers and book with lowest price possible!