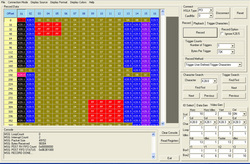 Great River Technology's HOTLink Serial Link Analyzer will be a tremendous help to engineers and technicians developing and debugging systems that use Cypress's HOTLink family of products
Albuquerque, NM and San Jose, Calif. (PRWEB) September 3, 2008
Great River Technology today introduced the HOTLink® Serial Link Analyzer (HSLA), a tool to accelerate implementing and troubleshooting video systems using HOTLink and HOTLink II SERDES solutions from Cypress Semiconductor Corp. (NYSE: CY). Great River Technology's HSLA captures and analyzes 8B/10B traffic on a link, including all data and special characters. The analyzer works with systems with link speeds between 160 Mbps to 1.5 Gbps and covers a wide range of commercial and military video and data applications.
The HSLA was designed for engineers that need to "see" what is on the link as they develop new HOTLink applications, it is the first HOTLink II analyzer of its kind. "I was developing a complex transmitter protocol and needed a means to verify the output, but normal frame grabbers don't capture all the framing characters, so I had to create a tool that I could use to verify my design, and then kept improving it. Other engineers started borrowing it to verify their designs, and before long it evolved into our HOTLink Serial Link Analyzer." said John Stahoviak, systems engineer and HSLA developer.
"Great River Technology's HOTLink Serial Link Analyzer will be a tremendous help to engineers and technicians developing and debugging systems that use Cypress's HOTLink family of products," said James Lie, marketing manager for HOTLink products at Cypress.
Captured data traces can be easily searched using the included HSLAView software. Multiple trigger levels and trigger logic allow the tool to capture multiple layers of data for detailed analysis. The HSLA works with all 8B/10B encoded protocols such as Fiber Channel, DVB-ASI, and GigE. The HSLA not only captures and analyzes data, but can be used to replay a data stream back on to the link, and allows easy insertion of modified data or errors.
The Hotlink Protocol Analyzer is built on Great River Technology's robust GRAVity product family. Using PCI 64bit/66Mhz technology, the hardware captures raw HOTLink data including all special characters. The capture depth is up to 2GB, which provides between 18s to 125s of capture, depending on the link speed. The HSLA offers a cost effective means to capture and analyze raw HOTLink data for a number of different PHY's.
The HLSA features include:

Easy to use, intuitive GUI
Multiple level triggers settings
Configurable recording depth from 1KB to 1GB
Configurable Color coding of data or special characters
Signal Splitter
Recorded file playout for sensor simulation
Viewing modes including hex, binary, ASCII, or HOTLink data codes
HOTLink Video generator
The HL2View software offers ease of use with the power to analyze and debug HOTlink interfaces. The feature rich application makes "seeing" what is on the wire as easy as the push of a button. A time scale histogram quickly identifies idle characters from data characters, for quick data previewing. The programmable color-coded data display shows character offsets of the data from when it was received. HL2View makes analysis of Hotlink interfaces fast and productive.
The HSLA is available in two versions, HSLA_Rx which is a receiver and analyzer, and the HSLA Rx/Tx which adds data playout features for HOTLink system emulation.
For technical details, please visit http://www.greatrivertech.com/products/HLSA.html
For pricing, contact distributors or Great River Technology directly via sales@greatrivertech.com.
About Great River Technology
Founded in 1996, Great River Technology (GRT) in Albuquerque, NM specializes in high performance digital video development tools and systems for commercial and military applications. GRT's ARINC 818 products simplify the design and implementation of system-critical video and data transmission for cockpit displays, avionics graphics generators, infrared sensors, and flight simulators. GRT's products are used in design and research labs, production facilities, aircraft, flight recorders, and flight maintenance facilities. GRT offers custom and COTS systems for real-time, high-speed, mission critical ARINC 818 video and HOTLink II based video and data systems.
About Cypress
Cypress delivers high-performance, mixed-signal, programmable solutions that provide customers with rapid time-to-market and exceptional system value. Cypress offerings include the PSoC® Programmable System-on-Chip™, USB controllers, general-purpose programmable clocks and memories. Cypress also offers wired and wireless connectivity solutions ranging from its WirelessUSB™ radio system-on-chip, to West Bridge® and EZ-USB® FX2LP controllers that enhance connectivity and performance in multimedia handsets. Cypress serves numerous markets including consumer, computation, data communications, automotive, industrial, and solar power. Cypress trades on the NYSE under the ticker symbol CY. Visit Cypress online at http://www.cypress.com.
Cypress, the Cypress logo, HOTLink, PSoC, West Bridge and EZ-USB are registered trademarks, and Programmable System-on-Chip and WirelessUSB are trademarks of Cypress Semiconductor Corporation. All other trademarks are the property of their respective owners.
# # #