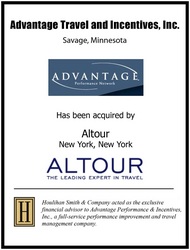 The transaction team at Houlihan Smith made extraordinary efforts to work towards win-win solutions in effecting our sale to The Travel Authority. Their pragmatic approach to negotiating a structure that is attractive to both sides proved invaluable.
Chicago, IL/Savage, MN (Vocus) August 4, 2010
Houlihan Smith & Company, Inc.(Houlihan Smith) acted as the exclusive financial advisor to Advantage Travel and Incentives, Inc. (Advantage Performance Network(APN) and Advantage Travel Management) in their sale to ALTOUR, and subsequent integration with ALTOUR's Travel Authority. The combined entities will have sales volume exceeding $900 million. The announcement was made by Charles Botchway, Group Managing Director and Vice Chairman of Houlihan Smith. The transaction was led by Houlihan Smith Managing Director, Reginald McGaugh. Terms of the deal were not disclosed.
Mary Sue Leathers, Advantage Performance Network's Chief Executive Officer, issued the following statement: "The transaction team at Houlihan Smith made extraordinary efforts to work towards win-win solutions in effecting our sale to The Travel Authority. Their pragmatic approach to negotiating a structure that is attractive to both sides proved invaluable. We are thrilled to partner with ALTOUR and The Travel Authority and look forward to continued growth and unparalleled customer service."
Houlihan Smith Managing Director Reginald McGaugh stated: "This is a fantastic opportunity for both our client and ALTOUR. We were able to negotiate a structure that allows for tremendous upside for both parties. We truly enjoyed working with Mary Sue and her team to complete this transaction."
About Houlihan Smith & Company:
Houlihan Smith understands the time sensitivity related to corporate finance transactions and responds quickly and effectively to new opportunities. The Houlihan Smith approach creates corporate finance transactions in which business owners and investors mutually benefit. Having the knowledge, experience and relationships to match buyers and sellers, as well as the ability to match the appropriate financing and capitalization structure to each unique client situation, is a strength that differentiates Houlihan Smith from the competition.
About Advantage Performance Network:
Founded in 1995 by Mary Sue Leathers, Advantage Performance Network is a full-service performance improvement and travel management company dedicated to providing fresh and strategically creative solutions. With a strong desire and commitment to deliver the best customer service in the industry, Ms. Leathers draws upon her 30+ years of experience in corporate travel management, incentive travel and meeting planning to lead Advantage as President and CEO. In 1998, Christopher Lund became a partner at APN, joining the executive staff to drive continued growth and develop strategic services. With over 25 years of sales and management experience in the incentive and travel industries, Mr. Lund's solid marketing direction and business development strategies have been key in the continued growth of APN.
About ALTOUR:
Established in 1991 by seasoned industry leader, Alexandre Chemla, ALTOUR has grown to become one of the most sophisticated and highly respected global leaders in the travel world today. With a travel volume of over $800 million, ALTOUR is among the largest agencies serving the luxury and mid-market travel niches today. It has 75 offices and more than 1,000 travel professionals throughout the United States and in Europe. Complementing its core travel management business, ALTOUR has developed a family of companies including ALTOUR Limousine, ALTOUR Air, ALTOUR Travel Master, ALTOUR Incentive Management, and ALTOUR Management Technology. In 2009, ALTOUR signed a joint program with American Express Travel. The agreement is designed to strengthen and expand services for American Express U.S. Representative Travel Network and ALTOUR's travelers around the globe. ALTOUR also acquired 12 American Express travel service offices geographically spread throughout the United States and The Travel Authority based in Louisville, Kentucky, which offers a full array of services including corporate travel management, online travel, vacation travel stores, meetings and incentives and professional and collegiate sports fan travel. ALTOUR is ranked among the two largest agencies in Los Angeles County by the Los Angeles Business Journal, where the company is also cited among 2010 Best Places to Work in Los Angeles. ALTOUR is ranked one of Travel Weekly's Top Travel Agencies in the United States, ranked #14 on the 2010 Power List, and noted among the Top Travel Agencies in the UK by Buying Business Travel.
Founded in 1996, Houlihan Smith & Company, Inc.("Houlihan") is a global investment banking firm which provides financial advisory, financing services, and valuation, operational improvement and restructuring services to public and private businesses as well as asset managers. Houlihan Smith is recognized as a leading provider of financial opinions, financing, merger and acquisitions advisory, turnaround and other corporate advisory services. In addition, the firm is a registered broker-dealer and FINRA/SIPC Member. Houlihan Smith provides cost-effective fairness and solvency opinions, as well as valuations for tax and financial reporting to some of the largest NYSE/NASDAQ companies, as well as small, privately held businesses. Its experienced professionals serve clients across the globe from offices in Chicago, New York, Los Angeles, Toronto, and Accra.
###