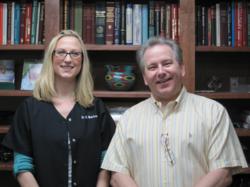 HOUSTON, TEXAS (PRWEB) November 08, 2012
Greenspoint Dental is offering another special this fall: Dental veneers for more than half off the original price.
Dr. Louis Bosse, one of the leading cosmetic dentists in Houston, is offering four porcelain dental veneers for only $1,999, six porcelain dental veneers for $2,999 and eight porcelain dental veneers for $3,999. A set of four veneers usually costs $4,100 at Greenspoint Dental and other reputable dental offices, while six and eight veneers typically cost $6,150 and $8,200, respectively.
Veneers are an easy way to improve the appearance of a person's smile, because the porcelain shells bonded to teeth hide tooth discoloration, chips and breaks.
"It's great to see how a set of dental veneers can change a person's appearance and give a true boost to their confidence," Dr. Bosse said. "We love being able to provide this service to our patients, and it's a great deal given the quality of veneers we're able to provide."
Appointment times available for this special offer are limited, and the staff at Greenspoint Dental reports that the slots are filling up quickly, so those who would like to reserve their spot should call Greenspoint Dental at 281-823-9987 as soon as possible.
The special is limited to one set of dental veneers per person and one additional set as a gift. A complimentary consultation with Dr. Bosse is required, during which time Dr. Bosse will discuss with the patient additional services that may be required in order to achieve best results, such as whitening of non-veneered teeth, fillings or other necessary corrections
To read more about this special or request an appointment time, click here.
About Greenspoint Dental
Greenspoint Dental is a family dental practice that has been operating in Houston for the last 15 years. Dr. Louis Bosse, the lead dentist at Greenspoint Dental, provides general, cosmetic and restorative dentistry to his patients. His associate, Dr. Kari Blankenship, provides dentistry services to patients of all ages, but particularly enjoys working with younger patients.
###