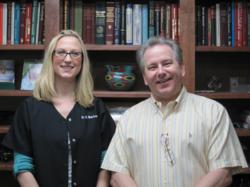 Houston, TX (PRWEB) March 19, 2013
Dr. Louis Bosse, the lead Houston cosmetic dentist at Greenspoint Dental, began donating one afternoon each month to help women in need of dental work at The Women's Home, a shelter in Houston, this month.
Dr. Bosse works with these women through an organization he started almost four years ago, Women Smiling at the Future. Through his organization, Dr. Bosse has teamed up with five other dentists who volunteer time and expertise in helping women who have suffered from drug and alcohol addictions, domestic abuse and homelessness.
When the women come to Dr. Bosse's office, Dr. Bosse and his staff perform a dental screening and develop a treatment plan for the women. Once the staff and the patient agree upon a treatment plan, Dr. Bosse executes the plan. The treatment plans can involve fillings, root canals, crowns, full and partial dentures and the removal of teeth.
"The women in this program are always excited to go to the dentist," Dr. Bosse said. "Women Smiling at the Future enables these women to leave their past behind. I had one patient who told me that every time she looked in the mirror before we repaired her teeth, her damaged teeth would remind her of the bad times in her life. Once she had a new, beautiful smile, she was able to forget the bad times and start anew. That was incredibly gratifying for me."
To learn more about Greenspoint Dental, click here.
About Greenspoint Dental
Greenspoint Dental is a family dental practice that has been operating in Houston for the last 15 years. Dr. Louis Bosse, the lead dentist at Greenspoint Dental, provides general, cosmetic and restorative dentistry to his patients. His associate, Dr. Kari Blankenship, provides dentistry services to patients of all ages, but particularly enjoys working with younger patients.