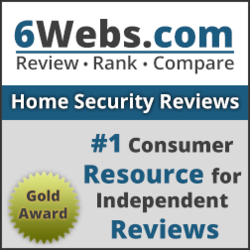 Compare the top Houston, TX home security companies on 6Webs.com.
Houston, TX (PRWEB) March 23, 2013
6Webs.com, the leading provider of unbiased and independent reviews, recently finished conducting their reviews of home security companies providing services in Houston, TX. Dozens of home security systems companies were reviewed and compared, but only the top five made the list on the 6Webs.com website. To view the results of the Houston, TX home security company reviews, please visit 6Webs.com at:
http://www.6webs.com/home-security/tx/houston/
Tim Smythe, the senior editor for 6Webs.com states, "The 6Webs.com home security expert team traveled to Houston, TX and conducted the thorough analysis and investigation that consumers have come to trust and published the results online. The 6Webs.com doesn't have the opportunity to make it to every city across the US, however the cities with the highest crime rates are traveled to and the results of the 6Webs.com home security reviews and rankings are published. We hope that the residents of Houston, TX find the reviews and rankings useful."
Of the top Houston home security companies there are two companies who provide solely do-it-yourself installation services and they are FrontPoint Security and Protect America. Protect America is based in TX and offers their customers easy to install wireless home security systems that are typically setup and configured in 15 minutes or less. Wireless sensors are placed on entry points and a quick call to the activation team is all that is needed to ensure the home security system is setup properly and working as expected.
There are two companies that provide professional installation home security services in Houston, TX, which are ADT Security and Vivint. Both companies have local home security installers who will install and configure the security system while in the home and customers have the opportunity to ask questions on how to use the system. There are many Houston security companies but ADT Security and Vivint made the top of the list on 6Webs.com.
About 6Webs.com
6Webs.com is the leading provider in independent and unbiased home security systems reviews. The 6Webs.com home security expert team conducts security company reviews on a national, state and city level and publishes the results on their website, 6Webs.com. In addition to releasing annual reviews of the top home security system providers, the 6Webs.com team educates consumers on how to lead a safer and more secure lifestyle.