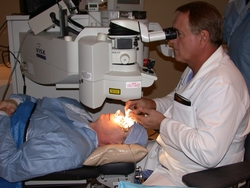 Top 100 Doctors in Houston and America
Houston, TX (PRWEB) December 4, 2008
Trusted LASIK Surgeons announced today that leading LASIK eye surgery and refractive eye surgery expert Doctor Jack Holladay, M.D., Houston, TX has joined the Trusted LASIK Eye Surgeons Directory, a consumer resource for learning about vision correction surgery and finding LASIK eye surgeons who are among the best doctors for total eye care in the United States. Dr. Holladay' practice, the Holladay LASIK institute serves the city of Houston including surrounding areas in Texas. The ISRS/AAO recently recognized Dr. Holladay with a Founder's Award for his many contributions to the growth of the ISRS and to the field of refractive surgery during his illustrious career. In addition, Dr. Holladay participated in 5 courses educating his fellow ophthalmologists on lens calculations for cataract surgery and complications of cataract surgery and LASIK and made a presentation concerning Wavefront guided versus Wavefront optimized LASIK.
Dr. Holladay treats patients with a variety of vision problems including, nearsightedness (myopia), farsightedness (hyperopia), astigmatism (blurred vision), presbyopia (problems readings), and 'sleep and see' contacts. His private practice, the Holladay LASIK Institute, offers the highest standards of vision care, including IntraLase "All-Laser" or "Bladeless" LASIK, Wavefront Based ("Custom") LASIK and PRK, and iLASIK, which includes WaveScan Technology, IntraLase, and Visx Advanced CustomVue treatments. Holladay LASIK Institute provides complete vision correction options, not just laser eye procedures like LASIK and PRK but, conductive keratoplasty , and limbal relaxing incisions to ensure each patient has the best option when it comes to the right procedure for them. Dr. Holladay is frequently trusted by other eye doctors and professional athletes to treat them. In addition, new patients who have had significant problems with LASIK or another vision correction procedure performed by another doctor have come to him for treatment of their complications.
Trusted LASIK Surgeons is unique because we screen surgeons based upon their experience, patient care, and professional accomplishments so that only highly qualified LASIK eye surgery and refractive surgeons in the United States are listed in our LASIK directory. Dr. Holladay's substantial credentials place him among the top 1% of LASIK eye surgery and refractive surgeons practicing in the United States in our estimation.
Among the many accomplishments that separate Dr. Holladay from nearly every other LASIK eye surgeon are his experience, extensive research, and teaching. He has over 15 years of experience in LASIK and other refractive procedures and has treated over 7,000 patients with laser vision correction surgery alone. Trusted by the FDA investigative studies to approve lasers and other refractive surgery devices, Dr. Holladay has participated in 12 such studies and served on the Ophthalmic Device Panel of the FDA who has honored him with a distinguished service award. In addition, he invented the Brightness Acuity Tester, an instrument used by eye surgeons around the world to test the effects of glare on patients' vision, and developed the Holladay "IOL Consultant" and "Refractive Surgery Consultant" software programs, which aid in the restoration of patients' vision following cataract removal and help to obtain the best results following refractive surgery procedures such as LASIK. Of special note, Dr. Holladay helped develop the software for the onboard aircraft computers to defeat Soviet radar systems prior to becoming an eye surgeon.
Dr. Holladay currently serves as a Clinical Professor of Ophthalmology at the Baylor College of Medicine. He has published and lectured extensively, with over 5 textbooks, 30 book chapters, and 100 articles on refractive surgery to his credit. He serves on the editorial board of 4 journals dedicated to refractive and cataract surgery. In addition, he has made nearly 1,500 presentations earning him the admiration of his peers worldwide.
This highly esteemed eye surgeon is active in many professional ophthalmology organizations. The American Academy of Ophthalmology, where he has served on several committees, has awarded him an Honor Award, a Senior Honor Award, and a Lifetime Achievement Award. The American Society of Cataract and Refractive Surgery has honored him with the Binkhorst Medal Award and the International Society of Refractive Surgery has honored him with the Barraquer Award and the Lifetime Achievement Medal and the European Society of Cataract and Refractive Surgery has honored him with the Ridley Medal. Locally, Dr. Holladay is also a member of the Houston Ophthalmological Society, the Texas Ophthalmological Association, and the Harris County Medical Society.
Dr. Holladay has been recognized as one of the "Best Doctors in America" and named among the "Top 100 Doctors in Houston and America". He is also a listed in "Who's Who" in Texas and the United States.
"Dr. Holladay's educational background as an engineer before becoming an ophthalmologist has paid huge dividends for all ophthalmologists and their patients," said James J. Salz, M.D., Chief Executive Officer of Trusted LASIK Surgeons. "Jack is the master at understanding all the complicated physics and math so essential for accurate preoperative evaluations of potential LASIK patients and he has devoted his career to helping other surgeons interpret corneal mapping and wavefront testing. He is frequently consulted by other surgeons about complicated cases and his work has significantly helped advance the field of both cataract and refractive surgery."
Visit Houston LASER Eye Doctor Jack Holladay's eye surgery profile page on the Trusted LASIK Surgeons web site.
Click here to learn more about Dr. Holladay's refractive eye surgery practice based in Houston, TX at the Holladay LASIK Institute website.
For more on why consumers should consider surgeons listed in the Trusted LASIK Surgeons directory for their vision correction needs, please visit:
Why choose a Surgeons from the Trusted LASIK Surgeon's Directory
The screening process and standards used by Trusted LASIK Surgeons are located at How Are LASIK Eye Surgeons Qualified at Trusted LASIK Surgeons?
To find a highly accomplished LASIK eye surgery, refractive eye specialist and vision care doctor in your local area who has been qualified and listed in the Trusted LASIK Surgeons directory, please visit the Trusted LASIK Surgeons Directory
SOURCE: Trusted LASIK Surgeons
About Trusted LASIK Surgeons, Inc.
Trusted LASIK Surgeons, Inc. (Trusted LASIK Surgeons) is a premier LASIK, laser eye surgery, and refractive eye surgery directory service whose primary mission is to assist consumers in finding the best and most qualified LASIK and vision correction surgeons in their local area in the United States. To accomplish this, Trusted LASIK Surgeons uses a unique screening process where each prospective LASIK eye surgeon must meet the minimum required qualifications set by Trusted LASIK Surgeons. These qualifications for these doctors are based on experience (not just in LASIK but complete refractive care), research (including FDA approval studies for manufacturers and academic appointments at major universities), publications and lectures (to their peers, not to the public via infomercials) and patient care standards (treating other eye professionals and managing complications from patients first operated on by someone else). All refractive eye surgeons listed at Trusted LASIK Surgeons have qualified, been accepted, and have subscribed to our services. For more information on why we believe consumers interested in LASIK should consider an eye surgeon listed in the Trusted LASIK Surgeon's directory, please visit our website at http://www.TrustedLASIKSurgeons.com.
Trusted LASIK Surgeons, Inc
Ph. (800) 483-8028
About the Holladay LASIK Institute
As one of Houston's leading specialists in medical vision care, the Holladay LASIK Institute is proud to be on the forefront of these new advances in vision care technology enable patients to obtain the best vision possible. Dr. Jack Holladay is one of the most respected ophthalmologists in the medical vision care profession and has earned worldwide recognition for his research and clinical practice. He has devoted his practice exclusively to Excimer Laser Vision Correction procedures such as LASIK and PRK. Laser Vision Correction is one of the most exciting procedures we offer our patients who suffer from nearsightedness, farsightedness, and astigmatism. The Holladay LASIK Institute also treats patients who have trouble reading (up close). Our practice uses the most modern refractive technology and our surgeons have the proven expertise to ensure you receive the best recommendations and treatment. The Holiday LASIK Institute offers not just laser vision correction surgery, but other procedures to give you a complete range of options in obtaining the best vision for you. If you, or someone you know depends on glasses or contacts in order to see clearly, we invite you to visit us. For more information about Dr. Jack Holladay and the Holladay LASIK Institute, please visit http://www.docholladay.com.
Holladay LASIK Institute
Bellaire Triangle Building
6802 Mapleridge, Suite 200
Bellaire, TX 77401
(713) 668-7337
###